In past years, Google has offered webmasters and businesses the gift of breathing a little easier over the holidays by not rolling out a new algorithm update. Changing the algorithm in the weeks between Thanksgiving and Christmas have been 'off limits' since the holiday season is huge for most business around the world. To lose out on sales during this time because of an algorithm shake-up could spell disaster for any site that depends on internet traffic for business.
So it came as somewhat of a surprise when Google released an update to Penguin on Thanksgiving Day. Although it was never confirmed by Google, publisher's reports indicate that updates also came out on Dec 2, Dec 5, and Dec 6.
If you noticed decreased traffic during the holiday season, it may be because of these updates. The Penguin algorithm was essentially made to penalize "over-optimized" sites and focused on weeding out sites inundated with keywords and low quality incoming links. In this article I will discuss what you can do to improve your site's keywords and backlinks right now, as well as strategies for your site's long-term SEO health.
Keywords
Get Rid of Too Many Repeated Keywords
Go through your content to make sure it is not saturated with the same keywords used over and over again. The content on your site should be for humans, not for search engines. For example, this will get you coal in your stocking: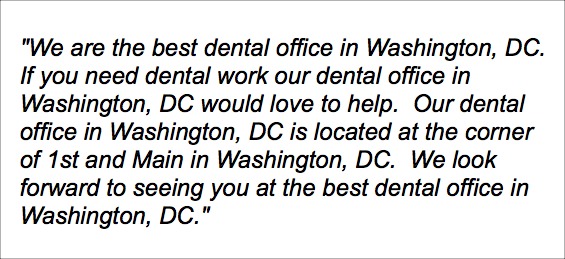 So what percentage of your content should be made up of keywords (i.e.; what should your keyword density be)? I used to think there was a magic number, but really there's not. As long as it reads well and doesn't appeared to be stuffed, it will be fine. Of course you need your keywords to appear more than once on a page to help Google know what the page is about, but your content shouldn't appear to be forced or over-optimized.
Am I Using the Right Keywords?
Keyword research is one of the most important activities you can do to get traffic to your website. However, you want to make sure you are attracting the right kind of visitors. If someone is misled to click on your link and then immediately backs out, Google takes note (and may punish your website in the rankings). A high abandonment rate is a clear signal to Google that you are doing something wrong. Instead, use the right keywords to attract the kind of visitors who will spend some time on your site and hopefully complete a desired action, like making a purchase or filling out a form.
So, how do you figure out which keywords are right for you? Ask yourself:
Are the keywords on your website relevant to your business?
Will users find what they need if they use those key words in search?
Will they be happy with what they find?
Will this traffic result in the user completing a desired action?
Assessing the Keyword Competition
To see which websites already rank for your keywords, search for the terms/phrases in the major search engines. The results will tell you how hard it will be to rank for the given term. Are you on the first page or not visible at all? Do you see a lot of paid ads listed on the right? Normally, many search ads means that you have entered a high value keyword. The bad news is that there will be a lot of competition for that keyword; the good news is that that keyword probably is highly lucrative if you rank well for it.
You can get more keyword ideas and competition information by using the Keyword Planner tool in Google Adwords.
Go to your Google AdWords account. If you don't have an account, you can get started here.
Go to Tools > Keyword Planner you don't need to have a paid campaign to use this feature.
Click on Search for New Keyword and Ad Group Ideas and fill in the form.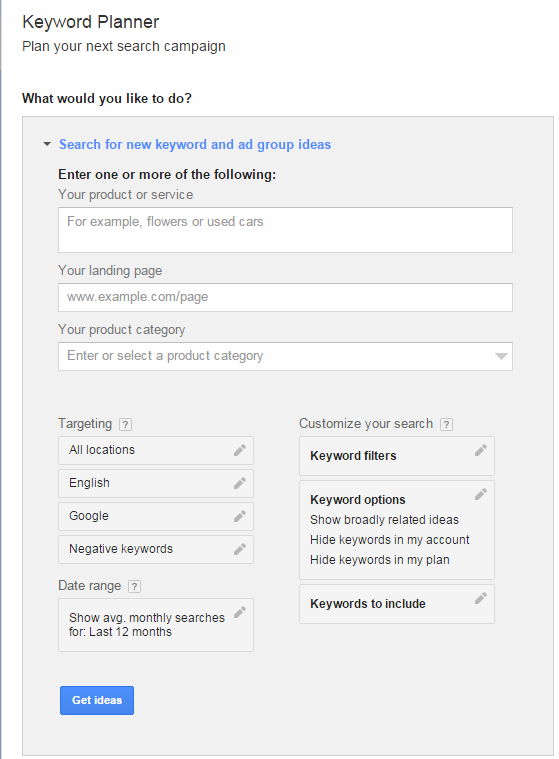 Click on the blue 'Get ideas' button and you will be given a list of keyword suggestions. You will also see the average number of searches for each keyword, and what your competition for that keyword would be (low, medium, or high).
Links
Get Rid of Spammy Backlinks
If you have many low quality, spammy backlinks, you were probably hit hard in the rankings. The first thing to do is to contact these websites and ask for them to take down your link. In Google Webmaster Tools you can download a list of backlinks pointing to your site.
Using Google's Disavow Links Tool
There was a time when webmasters were paying link farms to get them hundreds of low quality links. Maybe you did that a long time ago when you were young and foolish and now you want to play the takesies-backsies card and ask Google to ignore certain links on your site. Fortunately, the Google Disavow link tool can help you. If your site is affected by spammy links that are beyond your control, then this is the tool for you.
I suggest you use it with caution, though. Getting any wrong links disavowed might hurt your site's rankings. Furthermore, Google suggests that you shouldn't use this feature unless you are an advanced webmaster and that most sites probably would not need to use this tool. Please watch this video for more details.
If using Disavow Links tool is right for you:
Go to Search Traffic > Link to Your Site > Download the table.
Pick out the links you want to disavow and create a text file with one link per line. If you wish to ignore a complete domain use domain: example.com in that text file.
Go to the Disavow Link Tool and upload your .txt file with your unwanted links.
Keep up Your Social Media Presence
You're busy, I know. But don't slack off on promoting yourself through social media. Google crawls sites like Google+, LinkedIn, Pinterest, and Tumblr. Having a presence on these social media outlets will drive traffic to your site AND give you the chance and to create more links for your website, killing two penguins with the same stone.
Since Google does not crawl Facebook, Twitter, or Instagram, it won't care about your likes, comments, or shares, but promoting yourself through these social media sites can still drive traffic to your site.
SEO New Year's Resolutions
These two are important, but will definitely not be a quick fix. You will have to work on this over time, but you can start planting the seeds now for a great New Year. Kick it!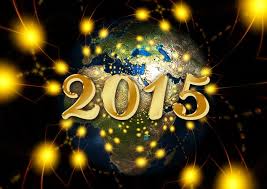 1. Get People to Review Your Site on Google+ Local
If it is appropriate for your business, get reviews from a verified source such as Zagat or Yelp. Reviews posted to your company's Google+ page are even better because Google trusts those reviews the most.
If you are a local business, and you want to get people give you reviews, you will need to set up your company page on Google+ Local:
Go to https://plus.google.com/pages/create and select 'Storefront', 'Service Area'
From there, you can select Find or add your business on the map.
Your local business page will be created and you can fill in all the information and upload a photo.
When people review your business they will be asked to rate you from 1 (hated it) to 5 (loved it) and they have the option to also provide a write-up describing their experience.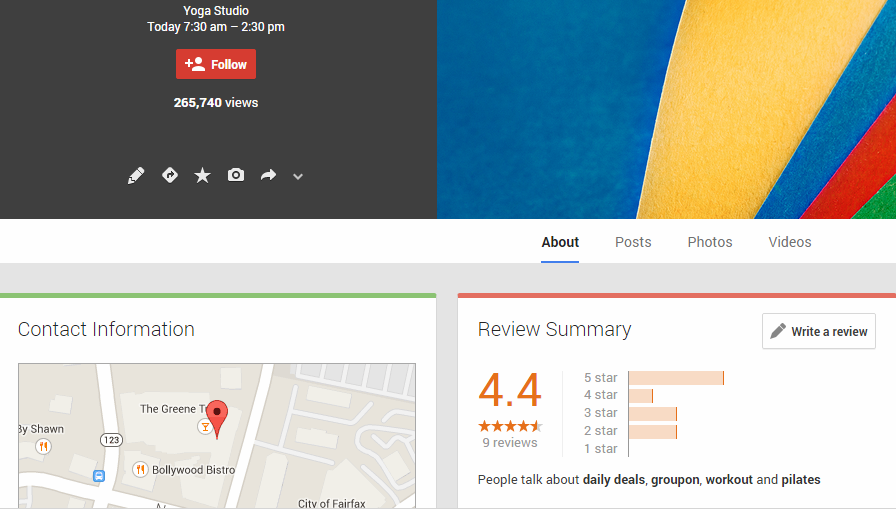 You can get people to review your company by emailing existing customers, putting a 'Leave a Review' link on your site, put a sign in your store, have the link printed on a receipt, or just tell people about it.
Accumulating reviews should be done over time. If all of a sudden you have a surge of reviews, Google may attribute it to you trying to manipulate your search standings. In that case, the reviews could be completely ignored or you could drop in the rankings.
Another caveat is that negative reviews can hurt you. If you get a negative review that you feel is abusive you can flag it. On the bottom right corner of every review is a flag icon that takes you to a page with options to dispute reviews. Google will investigate it and take action if necessary. This doesn't mean that if someone legitimately did not have a good experience with your business, the review will go away. In that case, the best thing to do is to try to get more positive reviews to boost your average.
The upshot is that you will be rewarded in the rankings if Google sees that you have many good reviews built over time. Even better is if people actually take the time to write up a flattering reviews.
2. Ensure Task Completion with Good Content
I know in the last article or two I've been hitting you over the head with the advice to 'create good content.' However, I feel it is a very important piece of the puzzle because it helps to guarantee task completion. If you want a user to take an action such as completing a form, signing up for something, or making a purchase, your content needs to be clear, well-written, and quick to load. For more information on creating content to ensure your site's visitors complete a meaningful action, or a conversion, please read my previous article on tracking and optimizing for conversions.
Wishing you good holiday cheer and here's to Search Engine Optimization in 2015!
---
Written by Anne Fernandez
---