I recently gave an onsite class to ten key managers to introduce Skype for Business as the replacement for their organization's legacy phone system. Each manager communicated with their direct reports, on average 7 per manager, via email, messaging, and phones that were all on different systems and patch-worked together. Because this method of communication was proving to be time consuming and inefficient, the company's executives decided to switch over to Skype for Business.
What is Skype for Business?
Skype for Business is a powerful Microsoft Office-integrated solution for all communication within an organization, including audio and/or video meetings, screen sharing, instant messaging, collaboratively editing documents, holding meetings with up to 250 people, setting up conference calls, scheduling, and much more.
Unfortunately, when I got to the classroom, the managers entering the training room were anxious and very upset about giving up their legacy telephones. Needless to say they were resistant to learning about Skype for Business. They did not yet understand its capabilities, nor did they want to learn something new.
In a one-hour session, I taught five basic features of the Skype for Business client application running on their PCs:
The meaning of presence
Searching for contacts and create groups
IMing one or multiple contacts
Making and receiving calls
Initiating a conference call
Each manager logged into their own identity on a PC running the Skype for Business Client.
As their trainer and facilitator, it was my job to understand their concerns, eliminate their anxieties, and demonstrate how easy it will be to transition to this new world of communications. However, as they were getting settled, I received the following comments:
"I'm very busy and have lots of work to do, so I have to leave early because I have to meet with my team and they can all only come to my office at 4 pm."
"Just show me how to answer and make a call," someone called out.
The student that wanted to leave early asked if it was possible to IM more than one person at a time. I asked her permission to contact them all right then via Instant Messaging so they could meet over Skype for Business, rather than in-person in her office. She agreed, and we quickly created a Skype for Business Group of her team members called 'Team Members.' I then demonstrated to her how to IM them all at once to create a group IM session.
Create a New Group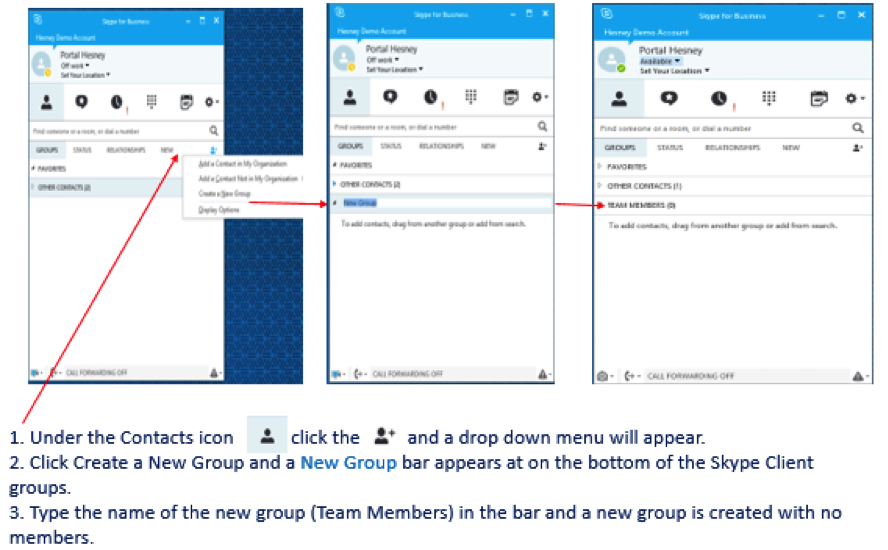 Add a Team Member to the Group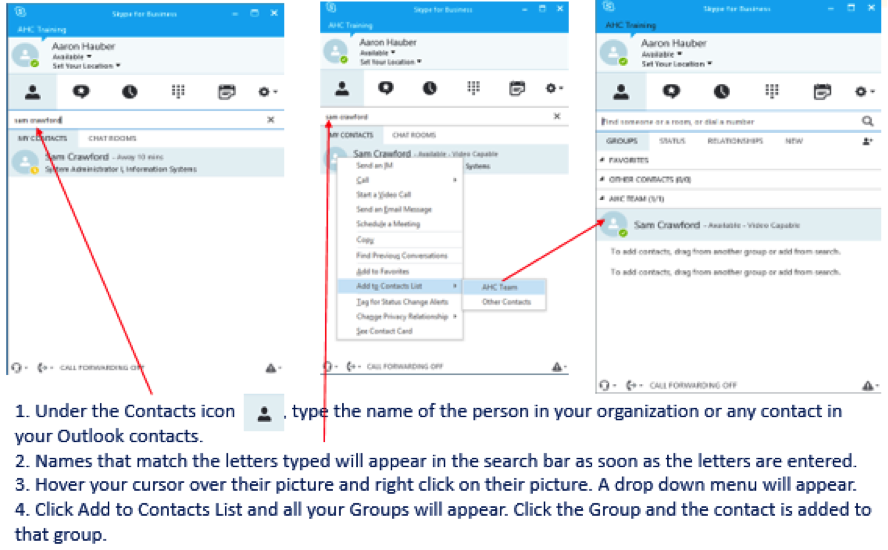 Instant Message the Group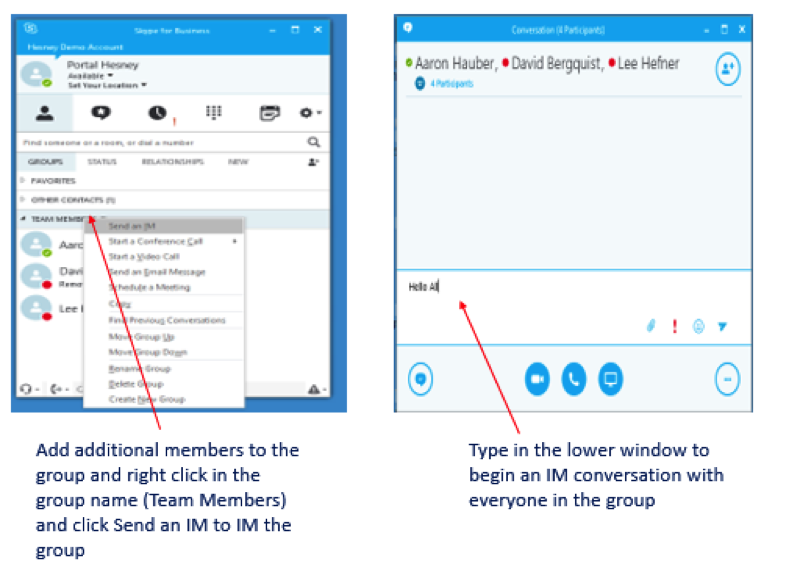 As soon as they all accepted her invitation, she exclaimed "This is fabulous! I can communicate with all my team members and they are still at their desks!" Within a few minutes, everyone in the class is IM'ing other colleagues in the class as well as co-workers not in the training.
"Once the IM is going can I add more people?"
"Can we create a conference call from an IM session?"
They were beginning to understand the vast capabilities of Skype for Business
Add more people to the conversation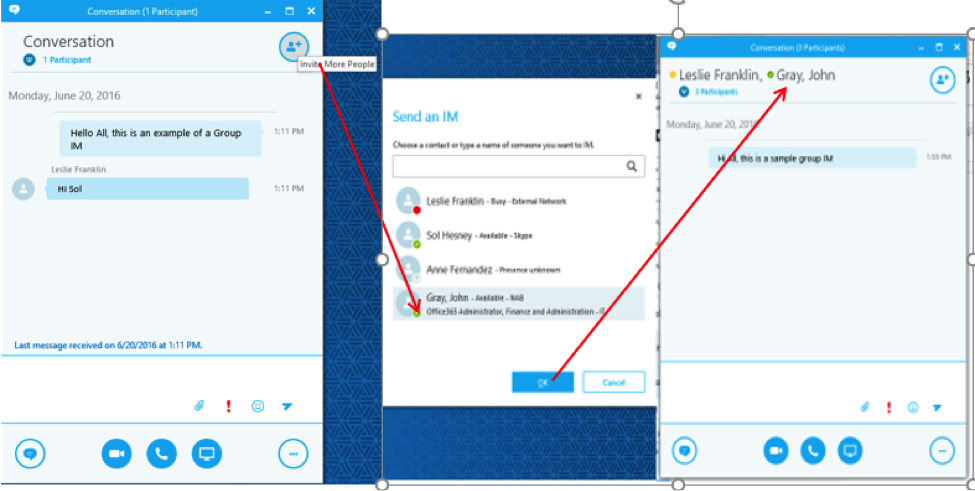 Create a conference call from a Group IM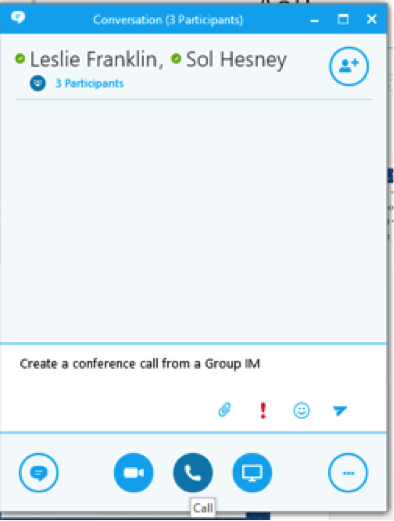 Click the Phone icon to Call IM participants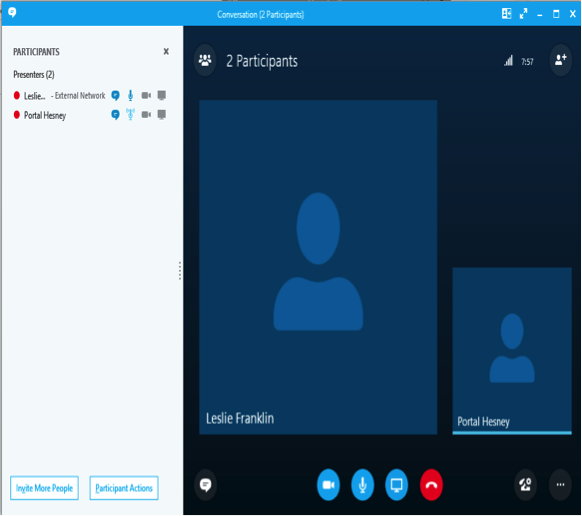 Results in a Conference Call
How to make a Skype Call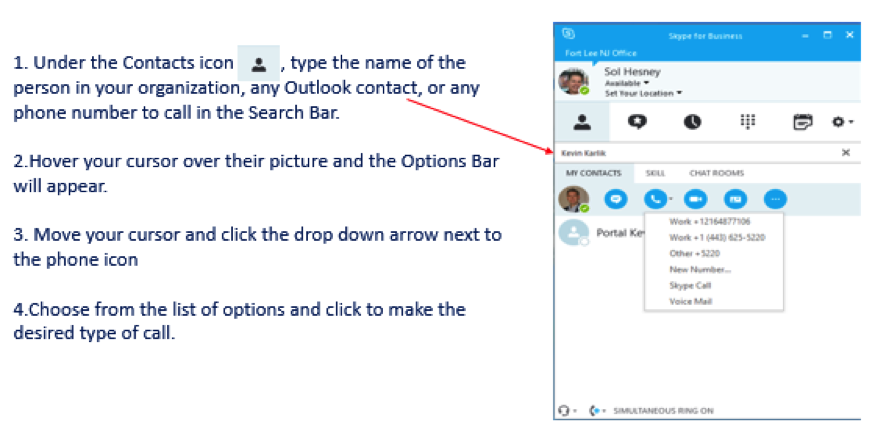 Make a Skype Call to any outside number

Skype for Business makes it efficient and pleasurable for employees to communicate and collaborate with their colleagues and direct reports. Skype for Business can streamline all of your organization's communications through Outlook integration and can manage all voice calls, conference calls, voice mail, IM, video conferences, and much more, all on preferred devices.
For training on Skype for Business, please see our Skype for Business training outline and contact us to discuss your team's specific needs.
---
Written by Sol Hesney
Sol is a trainer, coach, and consultant for all aspects of Skype for Business.

---