---
Free Machine Learning Resources from Accelebrate
Are there different types of Machine Learning? Yes, they are supervised, unsupervised, and reinforcement learning.
Supervised learning

is the most common type of ML, and the algorithm is given a set of labeled data. The algorithm then learns to predict the label for new data.

Unsupervised learning

is used when the algorithm is not given any labeled data and learns to find patterns in the data.

Reinforcement learning

is used when the algorithm is rewarded for actions that lead to a desired outcome. The algorithm then learns to take actions that maximize the reward.
AI, ML, and Deep Learning: What's the Difference?
AI

is an umbrella term, meaning any system exhibiting intelligent behavior. ML and deep learning are specific techniques that can be used to achieve AI goals.

ML

is a type of AI that allows systems to learn without being explicitly programmed. ML algorithms learn from data by identifying patterns and making predictions.

Deep learning

is part of ML and uses artificial neural networks (ANNs) to learn from data. Neural networks mimic the human brain and can perform complex tasks by analyzing large amounts of data.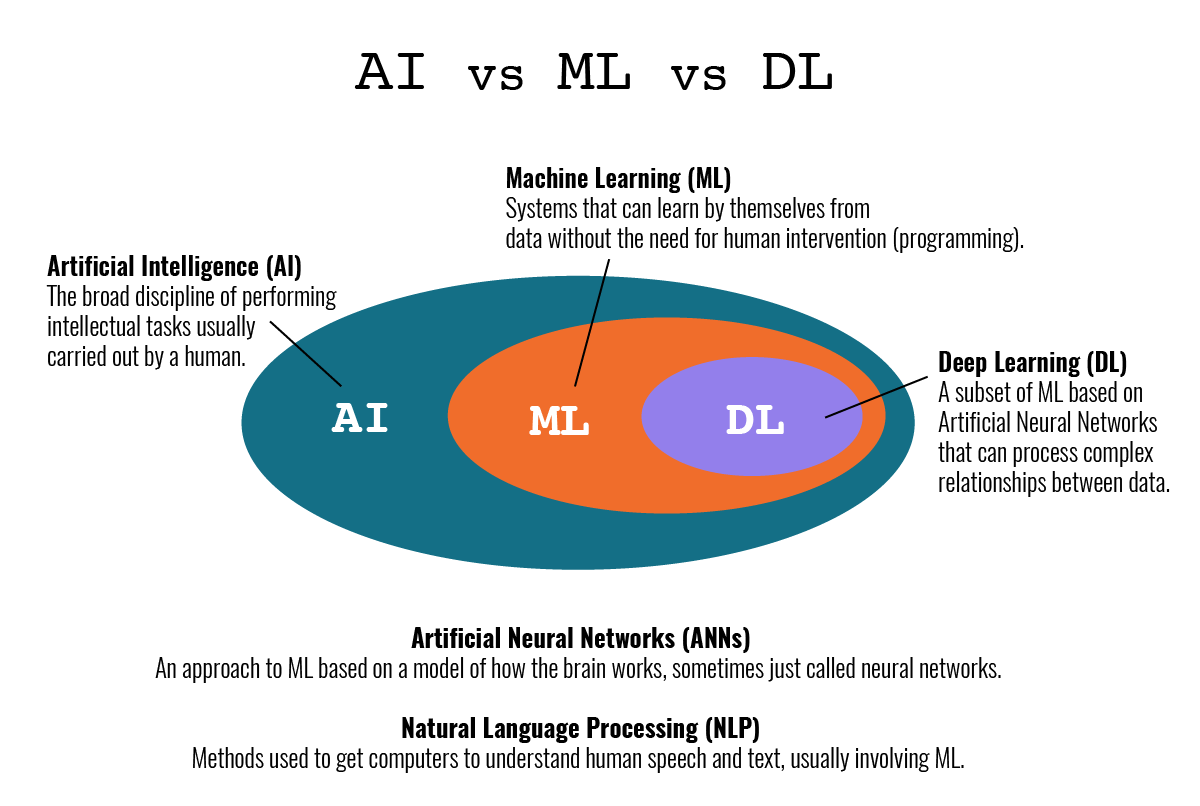 To learn more about Machine Learning with Python, watch our 1-hr pre-recorded Webinar: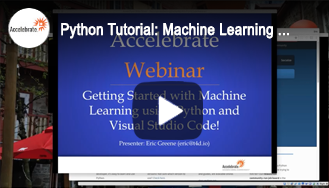 What our students are saying about our Machine Learning training:
"Well-informed and considerate instructors, always giving time to each student who needs clarity."
-Noah, CDC
"Great Introduction to Data Science that will fully equip you to take your data and perform ML methods with it right away!"
-Volha K, CDC
"The instructors could cover a vast array of machine learning and NLP topics in digestible, easy-to-understand lessons. They easily adapted the course content to the needs and learning speeds of the students."
-Tierney O, CDC
"Accelebrate has some really talented and experienced instructors that can help propose effective solutions if asked about a problem beyond the course material."
-Elshaimaa A, EBSCO
"The instructor is incredibly knowledgeable, quick to answer questions and quick to dive deeper into a topic."
-Michael M, EBSCO
Businesses We Have Trained For
In Charlotte and elsewhere in North Carolina, we have trained for:
14th Weather Squadron in Asheville, North Carolina
Avalara in Durham, North Carolina
Belk in Charlotte, North Carolina
City of Wilmington, NC in Wilmington, North Carolina
Dex One in Morrisville, North Carolina
Duke School in Durham, North Carolina
EMC Education Services in Durham, North Carolina
Lincoln Financial Group in Greensboro, North Carolina
Mecklenburg Co in Charlotte, North Carolina
Trade Street Advisors in Charlotte, North Carolina
See What People Are Saying About Accelebrate
Very informative and easy to follow. I am far from a SQL pro, and I was able to keep up without any problems.

- Bishop B. - Billy Graham Evangelistic Association, Charlotte, NC
This was a very meaningful class that helped me bridge the gaps in my knowledge of Infopath

- Eddie S. - Billy Graham Evangelistic Association, Charlotte, NC
The presentation and instructor were married extremely well!

- Chris H. - Okuma America Corporation, Charlotte, NC
You can find courses to take anywhere. I have taken several myself. The difference between this Accelebrate class is the instructor. He made the class fun and explained it in such a way that it just stayed with me.

- Kimberly S. - Okuma America Corporation, Charlotte, NC
Both informative AND entertaining, a rarity.

- Carl H. - Okuma America Corporation, Charlotte, NC