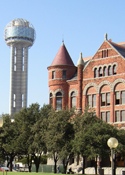 Accelebrate teaches on-site Machine Learning training courses at client sites throughout the Dallas area and other Texas sites.
Machine Learning, a part of artificial intelligence, automates the building of analytical models. Computer systems use algorithms and models, rather than explicit programming, to infer patterns and predict outcomes.
Accelebrate's Machine Learning training courses teach your team the basics of how to build machine learning solutions using the latest technologies, including Python, TensorFlow, Keras, and the wide array of tools available in the AWS cloud. In addition, we offer AI and Deep Learning training.
Free Webinar - Big Data, Fast Data: Using Spark and PySpark to Scale on Wed, March 31, 1 pm ET / 10 am PT
Making sense of data at scale requires a paradigm shift, referred to as Big Data. What are the appropriate tools for analyzing and harnessing Big Data? How is Machine Learning (ML) done with Big Data? What is Fast Data? In this one-hour session, Data Science expert and trainer Dr. Ra Inta answers these questions and discusses how to manage the pain points your organization may experience while scaling up your data operations. Register Here.