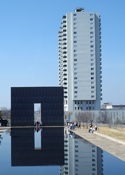 Accelebrate teaches on-site Power BI training courses at client sites throughout the Oklahoma City area and other Oklahoma venues.
Microsoft Power BI (Business Intelligence) allows users to quickly and easily create and share attractive and interactive data visualizations while keeping their data secure. Teams may connect to multiple data sources to discover and share meaningful business insights, helping their company save time and money.
Accelebrate offers live, private Power BI training for groups of 3 or more on-site or online. Whether your team is looking to get started with Power BI Desktop or take their data analysis and data modeling skills to the next level, we can deliver tailored training to fit your group's learning needs through hands-on instruction and real life scenarios.