ASP.NET Core with F# Training Overview
Accelebrate's ASP.NET Core with F# training course teaches attendees how to build modern ASP.NET Core-based applications using the F# programming language.
Location and Pricing
Accelebrate courses are taught as private, customized training for groups of 3 or more at your site. In addition, we offer live, private online training for teams who may be in multiple locations or wish to save on travel costs. To receive a customized proposal and price quote for private on-site or online training, please contact us.
In addition, some courses are available as live, online classes for individuals. See a schedule of online courses.
ASP.NET Core with F# Training Objectives
All attendees will:
Understand the goals and benefits of the .NET Core platform
Leverage the features of the F# language to write code that is more concise, composable, and scalable
Use ASP.NET Core's routing system to achieve a REST-style architecture
Learn how to build a compelling and maintainable HTML user interface using the Razor view engine and client-side JavaScript
Learn how to extend and modify ASP.NET Core by creating custom components and templates
Understand the different cross-platform deployment options available including via Docker containers
ASP.NET Core with F# Training Outline
Expand All | Collapse All | Printer-Friendly
Introduction
.NET Core vs. Full Framework
The F# Language
Visual Studio and VS Code
F# Project Templates
Hello World
.NET Core (CLI)
CLI Commands
ASP.NET Core (CLI)
Metapackages and Runtime Store
WebHost and Kestrel
ASP.NET Core (Visual Studio)
ASP.NET Core Application Architecture
Middleware
Services
Dependency Injection with F#
Application Configuration
WebHost Builder API
Startup Class
Configure Method
ConfigureServices Method
MVC Components
IConfiguration
Request Routing
RESTful API
Routing Middleware
Route Templates
Route Constraints
MVC Middleware
Attribute-Based Routing
Organizing Classes and Modules in F#
Models
Introduction
Persistence Ignorance
Classes vs. F# Records
Entity Framework (EF) Core 2
F# Type Providers
Controllers
Introduction
Requirements and Conventions
Dependencies
Action Results
Views
Introduction
Conventions
Razor Syntax
Layouts
ViewData and ViewBag
Strongly-Types Views
Partial Views
View Models
HTML and URL Helpers
Tag Helpers
View Components
Client-Side Dependencies
Razor Pages
HTML Forms
Introduction
Form Tag Helper
Form Submissions
Model Binding and F#
Application State
Introduction
HttpContext.Items
Session State
TempData
Data Validation
Introduction
Data Annotations
Model Binding
Input Tag Helpers
Validation Tag Helpers
Monads in F#
Authentication
Introduction
ASP.NET Core Identity
Cookie Middleware
Authorization
Claims-Based Authorization
Error Handling
Best Practices
HTTP Error Status Codes
Status Code Pages
Developer Exception Page
Exception Filters
Logging
Introduction
Configuration
ILogger
Testing
Introduction
Unit Testing
xUnit
Testing Controllers
Integration Testing
Web APIs
Introduction
Retrieval Operations
Create Operations
Update Operations
Delete Operations
Bad Requests
Cross-Origin Resource Sharing (CORS)
Deployment
Page and View Compilation
Web Server Options
Docker Containers
Giraffe Web Framework
Overview
HttpHandlers
Model Binding
Error Handling
F# and Functional Thinking Webinar
In this 90 minute webinar, Jason Bell will take a deep dive into what F# is, why developers like F#, and will also go through some useful code samples.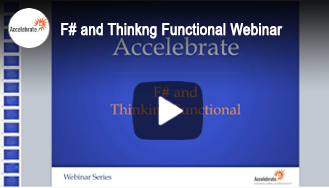 ---
Related Topics