Accelebrate's Management Team is here to oversee and facilitate each stage of the training to ensure your team receives exceptional customer service throughout the entire process.
Looking for Engaging and Productive Online Training?
Please read how we conduct online training for a discussion of our approach, then see it in action in a short video. We have the online teaching experience, advanced platforms, know-how, and schedule flexibility to ensure that your training delights your learners.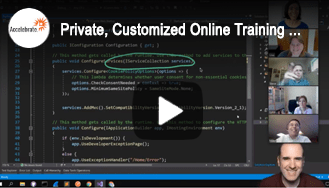 All Accelebrate's courses are taught privately online for teams of 3 or more and can be customized to your group's goals. To receive a customized proposal and price quote, please contact us. In addition, we offer live, online open enrollment training for individuals.
We offer competitive rates for outstanding training
Because our courses are taught at your location, our overhead is exceptionally low. As a result, the dollars you invest in training go to top-notch instruction and materials for your class, not to cover our overhead. Please contact us today for a complimentary, customized proposal.
Every course is customized
Don't settle for a "one-size fits all" course. At Accelebrate, we customize every class we teach to the goals and needs of the participants. Material from multiple courses can be combined and new material added, all at no or low additional cost.
The instructional quality is superior
Our courses are taught by veteran instructors who have extensive field experience with the topics they teach. This experience is incorporated into every class, resulting in courses that are driven by the demands and objectives of the real world.
We Back Every Class with Accelebrate's Total Satisfaction Guarantee
If for any reason you are not satisfied with a specific training class you receive from Accelebrate, we will refund any moneys received for the class or re-teach it, at your discretion. Just notify us in writing within 5 business days of the last day of class.
About Accelebrate
Accelebrate is an IT training firm headquartered in Atlanta, Georgia, USA that provides on-site and online training on a wide variety of technologies for clients in North America, Europe, and worldwide. The firm was founded by Steve Heckler in 2002.
Currently, Accelebrate teaches C#, VB, ASP.NET, SQL Server, SharePoint, Power BI, Azure, Tableau, AWS, Docker, Kubernetes, Ansible, Java SE and EE, Spring, JPA, Spring, Android, iOS, Adobe products (Captivate and RoboHelp), Articulate (Studio and Storyline), Oracle, Python, R, JavaScript, Angular, React, Vue, Agile, IT leadership, and a variety of other applications, technologies, and methodologies.
Meet Our Trainers
Accelebrate's instructors all have many years of practical development experience in their technologies and are top-notch trainers. They also happen to be very interesting people with diverse backgrounds. As we interview instructors, their interviews will appear below. Come get to know some of our instructors better!