Free Agile Resources from Accelebrate
Agile FAQ: One of our experienced Agile trainers and experts has compiled answers to some of the most frequently asked questions about what it means to be Agile. This Q&A clearly explains Agile's principles and the different frameworks, including Scrum, Kanban, Scrum@scale, and more.
Free Agile Webinar - Accelerate Growth with Innovation. Learn how to accelerate your organization's growth by applying innovation in an Agile context.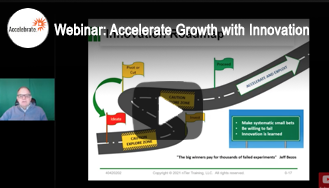 In addition, check out our Agile articles and recorded Agile webinars on:
What our students are saying about our Agile training:
"Accelebrate's Agile & Facilitation training has helped my team grow together and become more productive without burning out in the process."
-Andrew B, Graco Inc.
"We've been practicing what we thought was Scrum for a long time and this class really made it all click for me."
-Brian F, Bettercloud