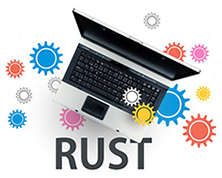 The Rust programming language is a fast, flexible, open-source language that is gaining popularity with businesses of all sizes for its scalability and minimal resource consumption. Rust integrates well with other languages and is used for everything from creating embedded applications to implementing complete web solutions
Accelebrate's Rust courses teach attendees fundamental and advanced Rust coding techniques. After the training, students are able to design and implement Rust applications from scratch and can immediately put their new skills into action.
We can customize training for your group and deliver it online with your schedule in mind. Prefer full days or half days? We work with you to fit your timetable. Our trainers are full-time developers, researchers, and trainers, with years of experience coding in the Rust language.
Note: These courses can be taught in English or French, with instruction and course materials available in both languages.
Free Rust Webinar (Wed, Aug 26, 2020, 1:00 PM - 2:00 PM)
Would you like an overview of Rust to see what all the chatter around it is about? This webinar presents the basics of Rust programming and its ecosystem and demonstrates how Rust can really shine.