Python is a remarkably powerful dynamic programming language that is used in a wide variety of application domains. Python is often compared to Tcl, Perl, Ruby, Scheme or Java. Python runs on Windows, Linux/Unix, and macOS, and has been ported to the Java and .NET runtimes. To learn more about Python, its applications, and benefits, visit the Python Software Foundation.
Accelebrate's Free Python Resources
Free Python Webinar: See why Python is such a popular programming language and discover what everyday tasks can be done efficiently with Python.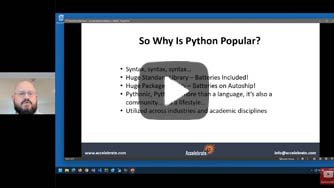 Check out our informative (and entertaining) Python Blog with the latest information on Pandas, fraud detection, data analytics, statistics, and much more.
This video tutorial by Eric Greene demonstrates how we can use the Thread Pool Executor in Python to easily utilize multi-threaded techniques in our applications.