Open Enrollment for Individuals
In addition to privately teaching our full course catalog for teams of 3 or more, we are pleased to offer select classes as live, online training for individuals. Get more information and see our schedule.
Upcoming Free Webinars
Join us for Webinar Wednesdays!
Building Microservices with Go and Docker (Wed, Jul 22, 2020, 1:00 PM - 2:00 PM EDT)
Using a tutorial-based approach, this webinar teaches participants how to build a modern, containerized microservice using Docker and the Go programming language.

Introduction to Windows Autopilot: Mastering No Touch Deployment (Wed, Jul 29, 2020, 1:00 PM - 2:00 PM EDT)
This webinar presents an in-depth look at how to effectively deploy and manage Windows Autopilot to achieve seamless, no touch deployment of a Windows OS image.
SAP BusinessObjects Web Intelligence: Layering Reports and Charts (Wed, Aug 5, 2020, 1:00 PM - 2:00 PM)
Michael Ward demonstrates how to build a customized drop-down selection window in Web Intelligence using input controls and local variables. Attendees also learn how to add a marquee and use other formatting features.
Introduction to Rust Programming (Wed, Aug 26, 2020, 1:00 PM - 2:00 PM)
Rust is a modern system programming language that is blazingly fast, memory-efficient, memory-safe, and thread-safe. This webinar presents the basics of Rust programming and its ecosystem and demonstrates how Rust can really shine.
You may also view our past webinars.
Looking for Engaging and Productive Online Training?
Please read how we conduct online training for a discussion of our approach, then see it in action in a short video. We have the online teaching experience, advanced platforms, know-how, and schedule flexibility to ensure that your training delights your learners.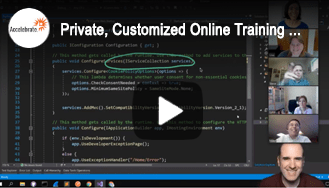 All Accelebrate's courses are taught privately online for teams of 3 or more and can be customized to your group's goals. To receive a customized proposal and price quote, please contact us. In addition, we offer live, online open enrollment training for individuals.