Agile Marketing Training Overview
Marketing has changed. There are more channels, more complex persona segmentation, more demand for creative campaigns in multiple media, and everything is underlined by the drive to produce more, more often, and faster.
This Agile for Marketers Certification training teaches attendees how to apply Agile to their marketing initiatives and focuses on customer-centric campaigns. The course is certified by ICAgile and participants may earn ICP-Marketing Certified Professional accreditation upon successful completion of the class.
Location and Pricing
Accelebrate courses are taught as private, customized training for groups of 3 or more at your site. In addition, we offer live, private online training for teams who may be in multiple locations or wish to save on travel costs. To receive a customized proposal and price quote for private on-site or online training, please contact us.
Agile Marketing Training Objectives
All students will learn:
Strategies for prioritizing the most important work, and how to tactically say no to work that's low value
How to visually map a marketing campaign and determine ways that you can break work up to deliver pieces to customers faster
A one-sentence writing technique called 'Customer Stories' to quickly adjust the tone of your campaign to be more customer-centric
Ways to create customer personas using what you know now, allowing you to get to faster delivery of real work
A format for creating a 'Brief Brief' that guides the agile team strategically, but allows room for creative thinking
An understanding of the agile mindset, principles, roles and frameworks including Scrum, Kanban and Lean Marketing
Agile Marketing Training Outline
Expand All | Collapse All | Printer-Friendly
The Need for Agile Marketing
Discover how new brand categories are disrupting marketing as we know it
Explore six key challenges marketers are facing with traditional marketing
Learn how agile marketing can help you overcome these challenges
Defining Agile Marketing
Discover the differences between Agile marketing and common frameworks such as Scrum, Kanban and Lean
Take a deep dive into the Agile marketing Manifesto's Values & Principles and discover where you're aligned and areas that will require a culture change at your company
Learn what Agile marketers do differently than traditional marketers
Customer-Centric Marketing
Learn how to create campaigns that don't lose sight of your customers
Explore social media and how personalization and quick response is imperative
Practice writing minimally viable personas and customer stories to understand customers' needs quickly
Marketing Planning that's Flexible
Learn how to focus your marketing on outcome vs. output
Practice mapping out your work to discover your minimally viable campaign
Learn to organize work in a single, prioritized marketing backlog
Teams & Teamwork
Understand how teams of generalists rather than specialists deliver marketing value sooner
Discover why dedicated team players are key to the teams' success
Learn how working at a sustainable pace determined by the team improves outcomes
Kanban Practices for Agile Marketers
Learn the basics of Kanban and its key principles
Discover how to limit work in progress so work doesn't get 'stuck'
See how visualizing work helps the team
Determine how your team can discover its ideal flow to maximize done work
Using the Scrum Framework in Agile Marketing
Learn the basics of the Scrum framework
Understand the three roles in Scrum and how marketers are changing it up
Simulate the Scrum framework with an interactive game
Getting Started with Agile Marketing
Select which Agile practices best fit your team and culture
Explore how Agile marketing teams have been formed by other companies
Learn best practices for piloting an Agile marketing team
Free Agile Marketing Resources from Accelebrate
Read our Agile Marketing articles:
In addition, we have a 1-hour webinar on Agile Marketing: Agile, It's Not Just for Software Anymore! Learn How To Get Your Marketing Department Embracing Agility If you're working at a company that's practicing agile in IT, but your marketing department is still working the same way it has since 1999, it's time to get them on board! In this webinar, Stacey Ackerman, agile marketing coach and trainer, will guide you through 5 easy ways to get your marketing team started with agile.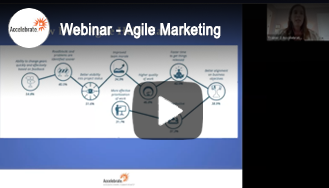 Course Number:
AGLM-100
Duration:
2 Days
Prerequisites:
No prior experience is presumed.
Training Materials:
All attendees receive comprehensive courseware covering all topics in the course including:
Case studies and real stories of marketers currently applying Agile Marketing
A take-home workbook that takes concepts and puts them into action items for when you get back to the office
A designation as a Certified Agile Marketer by ICAgile, a world-renowned accreditation company
Software Requirements:
No software is required. Students should be seated in pods of 3 or 4, with a notebook and pen for each student. Each pod should have a flipchart with multiple colors of markers. The instructor will require connectivity for her/his laptop to a projection system and Internet.