Vitaly Livshits, a Power Platform and Power Automate expert and experienced trainer, has compiled answers to some of the most popular questions he gets about how to use Power Automate. Vitaly gives his practical advice for working with this component and insightful, real-world answers to common queries, including how to get started, licensing options, what different flows you can create, and more.
For hands-on, instructor-led training for your team of 3 or more, browse our Microsoft Power Platform training courses.
1. What is Microsoft Power Automate?
Microsoft Power Automate is a universal automation platform that helps you to automate tasks across your favorite apps and services. With Power Automate, you can create simple or complex workflows that can save you time and effort.
Power Automate can automate any activities that run on the cloud, on the desktop or on mobile devices.

For example, you can create a flow that automatically sends mobile and email notifications whenever a file is uploaded to OneDrive. Such a flow can be easily created in a few minutes in Power Automate's GUI designer: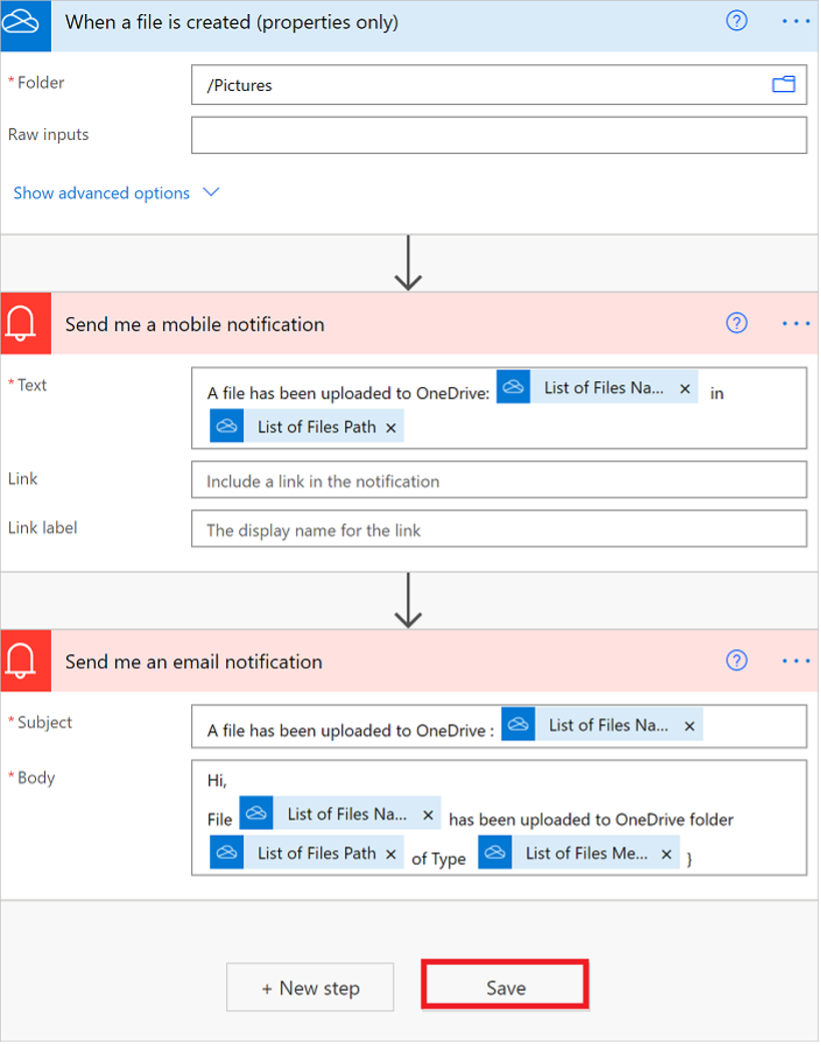 2. What are the benefits of using Microsoft Power Automate?
Increased productivity: Power Automate can help you to automate tasks that you would otherwise have to do manually, freeing up your time to focus on more important things.
Reduced errors: Power Automate can help to reduce errors by automating tasks that are prone to human error.
Improved collaboration: Power Automate can help to improve collaboration by allowing you to share workflows with others.
Cost savings: Power Automate can help you to save money by automating recurring tasks that would otherwise require manual labor.
Optimized performance: Power Automate can rapidly iterate through many tasks in a workflow, completing complex workflows faster than human users.
Stronger security and compliance: Power Automate can be configured to access sensitive data and systems without providing access to any individuals.
3. What are the different types of flows that I can create in Power Automate?
Cloud flows: These flows are executed in the Azure cloud, giving them access to infinite resources and connectivity to a wide range of services. Cloud flows can be executed automatically based on specific events, instantly based on button clicks, or based on a schedule. Cloud flows are also known as Digital Process Automation (DPA).
Desktop flows: These flows are executed on a PC or VM and can automate any tasks on a desktop or Web. For example, they can automatically navigate a legacy Windows application, or perform automation via a web browser. Desktop flows are also known as Robotic Process Automation (RPA).
Business process flows: These flows provide a set of stages and steps and help guide individuals through complex business activities. For example, you can create a business process flow that starts with a prospect opportunity, creates a quote, generates an order, and processes a payment.
4. What are some of the most common uses for Microsoft Power Automate?
Automating repetitive tasks: Power Automate can help you to automate repetitive tasks, such as sending out email notifications or updating spreadsheets. Power Automate provides easy-to-use tools that make automation accessible to every user in every organization.
Integrating apps and services: Power Automate can help you to integrate apps and services, such as Salesforce and Slack. This integration can be performed on any software, including software that runs in the cloud, in on-prem data centers or on desktops.
Building custom workflows: Power Automate can help you to build custom workflows that meet your specific needs. There are infinite possible solutions that you can construct using hundreds of pre-defined activities and a range of system connectors.
Standardizing activities across the organization: Power Automate can help you bring additional consistency to processes by switching them to predictable runs that perform the same steps consistently, every time.
5. What are the different licensing options for Microsoft Power Automate?
Power Automate per user: This license allows a single user to run any number of cloud flows. It costs $15 per user per month.
Power Automate per flow: This license allows a single cloud flow to be run by any number of users. It costs $100 per flow per month.
Additional specialized license types are available for some types of desktop flows.
6. How do I get started with Microsoft Power Automate?
Go to the Power Automate website at https://make.powerautomate.com.
Sign in with your Microsoft account.
Create a new flow.

You can start with a pre-defined template, from an empty flow, or even use AI to automatically generate the flow based on your needs.

For example, this selection will generate the flow using the natural language recognition AI:





Define the flow. For example, when using the AI you can do this by supplying an English-language description:



The flow is now ready to use! Save it and enjoy the automation.
7. What Power Automate advice could you give me that would improve my efficiency with the tool?
Use templates as much as possible: Templates get you to the finish line faster by providing a proven, pre-build framework for the flows.
Keep flows as simple as possible: Simple flows tend to be easier to both create and to operate over time.
Modularize complex flows: Split up complex flows into sub-flows to enhance understanding and promote easier maintenance.
Use error handling: Error handling can help you to prevent your flows from crashing if an error occurs. This can help you to keep your flows running smoothly even if there are issues with input data or with processing steps.
Experiment: Don't be afraid to experiment with different things. The best way to learn Power Automate is by experimenting. You can always revert back to previous flow versions if something does not go exactly according to plan.
Leverage the documentation: The official Power Automate documentation on Microsoft Learn is a great resource for learning about the platform. You can also view the official YouTube channel at https://www.youtube.com/channel/UCG98S4lL7nwlN8dxSF322bA.
Stay current: Power Automate keeps getting better every week! Stay on top of news and enhancement announcements so you can apply new features as required by your automations.
Here are some additional tips that you may find helpful:
Use variables: Variables can help you to store data and reuse it throughout your flows. This can make your flows reusable and easier to maintain.
Use conditions: Conditions can help you to control the flow of your workflows. This can help you to ensure that your flows adapt to the environment to perform different actions based on changing circumstances.
Use loops: Loops can help you to repeat actions a specific number of times. This can be useful for automating repetitive tasks. For example, you can use loops to perform the same action for 100 customers.
Use the Power Automate community: The Power Automate community is a great resource for finding help and inspiration. You can find templates, tutorials, and other resources on the community forum.
8. What are the different components of a Power Automate cloud flow?
Power Automate cloud flows use these main components:
Triggers: These are events that start a flow. For example, a trigger could be a new email arriving in your inbox, a file being uploaded to your OneDrive, or a user clicking a button on a website.
Connectors: These are pre-built connections to popular apps and services. For example, there are connectors for Microsoft Office, Salesforce, Google Drive, and many more.
Actions: These are the connector tasks that are performed when a trigger is activated. For example, an action could be sending an email, creating a new file, or updating a database record.
These components are configured using a web-based visual designer. The designer provides a drag-and-drop interface that makes it easy to create and edit flows.
What are the additional software modules in Power Automate, beyond cloud flows?
Here are the main additional platform components:
Power Automate for Desktop: This FREE application lets you create desktop flows. It supports assembling actions from a toolbox or even by using an action recorder. You can run desktop flows individually, or combine them with cloud flows for automatically triggered, consolidated DPA + RPA integrations.
On-premises data gateway: This is a bridge that allows you to connect Power Automate to on-premises data sources. You typically install this software within your own data center. For example, you can use it to pull data from an on-premises SQL Server database and integrate it with the flow.

By Vitaly Livshits, a Microsoft Certified Trainer (MCT) with deep knowledge and experience in all aspects of the Microsoft data platform, including Power Automate. He started his career on an IBM mainframe in 1998, authoring printed reports for a bank. Today he helps clients succeed with Microsoft products and actively trains students on Power Automate, Power BI, Azure data engineering, data analysis, database administration, and solution architecture.