Vitaly Livshits, a Power BI expert and experienced trainer, has compiled answers to some of the most frequently asked questions about how to get started with Power BI. In his classes, Vitaly is often asked about connecting to data sources, creating data visualizations, and implementing real-world best practices.
For hands-on, instructor-led training for your team of 3 or more, browse our Power BI training courses.
1. What is Power BI?
Power BI is a business intelligence (BI) platform developed by Microsoft. It helps users to analyze and visualize data from a variety of sources, and to create interactive reports and dashboards. The main components of the Power BI platform are Power BI Desktop, Power BI Service, Power BI Mobile Apps and Power BI Gateway.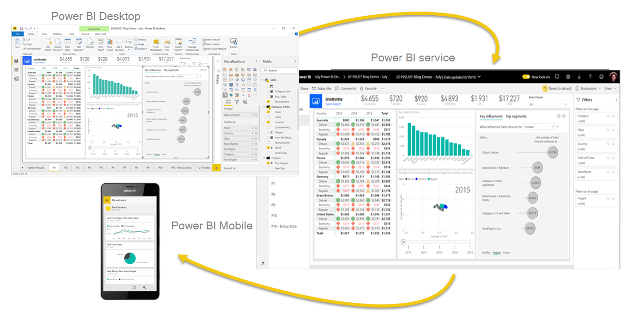 2. What are the benefits of using Power BI?
The ability to connect to a wide variety of data sources
Powerful data visualization tools
The ability to create interactive reports and dashboards
The ability to share reports and dashboards with others
Affordability (the free version of Power BI is available)
3. What are the different components of Power BI?
Power BI Desktop: This is the desktop version of Power BI, where you can connect to data sources, transform data, and create reports and dashboards.


Power BI Service: This is the cloud-based version of Power BI, where you can publish reports and dashboards, and share them with others.


Power BI Mobile Apps: These are mobile apps that allow you to view and interact with reports and dashboards on your mobile devices.


Power BI Gateway: This application creates a bridge between on-prem data sources and Power BI Service to support hybrid cloud analytics.
4. What are the different types of data sources that Power BI can connect to?
Power BI can connect to over 180 data source types across multiple categories, including:
Files: Excel, XML, JSON, PDF, Parquet, Folder, etc.


On-premise + Cloud Databases: SQL Server, Snowflake, Access, SAP HANA, Oracle, DB2, etc.


Power Platform + Fabric: Power BI Dataset, Datamart, Warehouse, Lakehouse, Dataflow, Dataverse, etc.


Azure: Azure Data Lake Storage, Azure SQL Database, Azure Synapse Analytics, Azure Cosmos DB, Azure Databricks, etc.


Online Services (SaaS): SharePoint, Dynamics 365, Smartsheet, Salesforce, Quickbooks Online, Google Analytics, Adobe Analytics, etc.


Other: R Scripts, OData Feeds, Active Directory, Hadoop File System, OLE DB, Delta Sharing, etc.
5. What are the different types of reports that Power BI can create?
Tabular reports


Matrix reports


KPI reports


Reports with drill-up, drill-down and drill-through capabilities
Power BI can also create dashboards, which consolidate visualizations from multiple reports into a single pane of glass.
6. What are the different ways to share Power BI reports?
Publishing them to the Power BI Service


Sending them as email attachments


Exporting them to PDF or Excel files


Embedding them via URL into Microsoft 365, Power Platform and custom enterprise applications
7. What are the different licensing options for Power BI?
Power BI Free: This is the free version of Power BI, which is ideal for personal use and rapid prototyping.


Power BI Pro: This license costs $10/user/month and offers collaboration capabilities with secure sharing of reports & dashboards.


Power BI Premium (Per User): This license costs $20/user/month and offers additional features such as data partitioning and high-performance computing.


Power BI Premium (Capacity): This license costs $5,000/server/month and higher, depending on the desired performance level. It offers reserved computing, autoscaling, additional features and cost efficiencies for larger organizations.
The licensing options above will be further optimized once Microsoft Fabric becomes officially released. It launched in public preview in May 2023.
8. How do you create data visualizations in Power BI, step-by-step?
Connect to your data source. In Power BI Desktop, click Get Data and select the type of data source you want to connect to.


Transform your data. Once you've connected to your data source, you may need to transform your data to make it ready for visualization. This may involve cleaning up your data, removing duplicate records, or changing the data types of your fields.


Customize the data model. You can configure relationships which link the tables together, add calculations using Data Analytics Expressions (DAX), build nested hierarchies and configure field metadata such as descriptions.


Add the visualizations to the report. Once your data is ready, you can start creating visualizations. To do this, drag and drop fields from the Fields pane onto the Report Canvas and select from a rich collection of visualization types.


Format your visualizations. Once you've created the visualizations, you can format them to make them look the way you want. This includes changing the colors, fonts, and sizes of your elements.


Add interactivity to your report. You can add interactivity to your report by adding filters, slicers, and buttons. This will allow your users to interact with your visualizations and explore your data in more detail.


Publish your report. Once you're happy with your report, you can publish it to the Power BI Service. This will allow you to easily share your report with others.
9. What are tips for creating data visualizations in Power BI?
Use the right type of visualization for your data. There are many different types of visualizations available in Power BI, so it's important to choose the right one for your data. For example, if you're trying to show a trend over time, you might use a line chart.


Use clear and concise labels. Your labels should be clear and concise so that your users can understand what they're looking at.


Use colors to your advantage. Colors can be used to highlight important information or to make your visualization more visually appealing. Consider accessibility requirements when choosing color schemes.


Use filters, slicers, and hierarchies to let your users interact with your visualization. This will allow them to explore your data in more detail and find the information they're looking for.

By Vitaly Livshits, a Microsoft Certified Trainer (MCT) with deep knowledge and experience in all aspects of the Microsoft data platform, including Power BI. He started his career on an IBM mainframe in 1998, authoring printed reports for a bank. Today he helps clients succeed with Microsoft products and actively trains students on Power BI, Power Automate, Azure data engineering, data analysis, database administration, and solution architecture.