for  private training for 3 or more people at your site or online.
How do you use SharePoint Metadata instead of Folders to quickly organize and locate documents in a SharePoint Document Library?
Traditionally, in Shared Drives and Windows Explorer, folders have been used to organize documents. However, the use of folders has several drawbacks:
What if a document could reside in more than one folder?
What if you can't remember which folder you placed the document?
What if you have 4 or 5 or even 6 levels of nested folders, and keeping up with the folder structure becomes a nightmare?
SharePoint Metadata columns allows you solve all of these issues by allowing you to create your own metadata columns and then use these columns to categorize a document without the use of folders.
Consider a SharePoint Document called "Operations Policies and Procedures". Suppose some documents apply to one physical location, some documents to multiple physical locations, and these same operations documents are used by one or more departments. Solving this categorization would be complex and convoluted with folders but is easy in SharePoint!
Check out this example: In this Document Library, I have created 2 Metadata Choice columns: "Location Name" and "Department" using the Plus (+) sign at the right of the screen.

I've associated each document with one or more locations, and I've also specified to which department(s) the document applies. You would not be able to accomplish this method of categorizing documents by using folders without creating multiple copies of a file (a SharePoint No No!) or without using nested folders, which can be confusing and difficult to manage.
You can also create multiple Views of a SharePoint Library as shown here: Simply click on the Filter button in the Top Right Corner of the Document Library and then choose which Metadata Columns on which you would like to filter the library.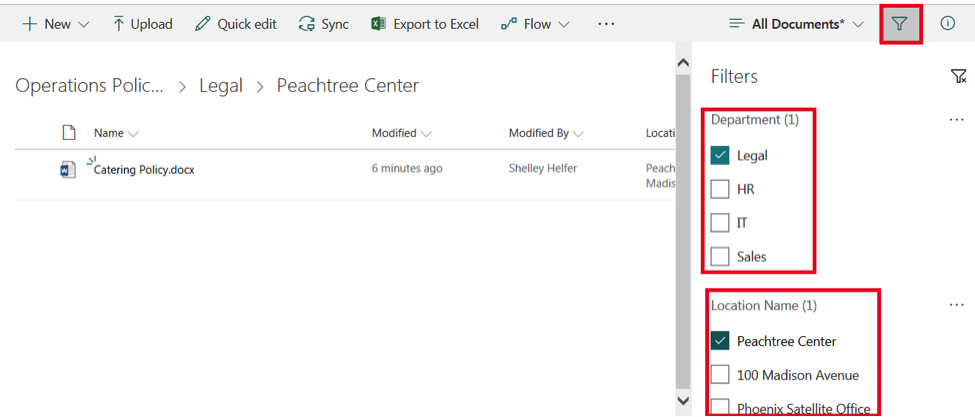 Once you have chosen your filters, you will only see documents that match your filter:

If you want to use this filter again, you can save it as a "View". Notice the asterisk (*) next to "All Documents". This means you have a View open with unsaved changes. Simply click on the drop-down menu next to "All Documents", and save your view as you can see here:

Once you've saved the view, you'll see your "All Documents" view along with your other views in the drop-down list:

And if you're feeling extra brave and really want to encourage your users to use Metadata instead of folders, you can even turn off the use of folders in a document library in the Advanced Settings of your Document Library:

Once you choose "No", the New Folder option will no longer be available on the "New" drop-down for your Document Library: