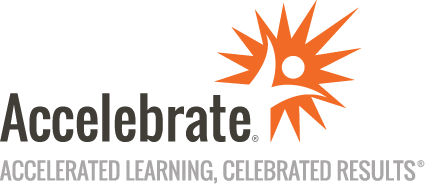 "Whatever you are, be a good one."


--Abraham Lincoln
Team leaders and team members are both integral parts of the same team, striving for success. Accelebrate offers you tools to achieve that success in three key areas:
Agile
IT Leadership
Writing and Communication
Agile
"Plans are of little importance, but planning is essential." --Winston Churchill
Agile teams work in manageable increments. The Agile approach to software development and project management is iterative and collaborative instead of one long push to deliver a final product.
➤ View ALL our Agile courses
Did you know...
The Agile Manifesto was written in 2001.
Click here
to read more about its authors, history, and philosophy.
Over the years, Accelebrate has hosted 10 Agile webinars. Check out the playlist on YouTube!
What Is Agile Project Management?
We've all heard terms like Agile, Scrum, and sprints but what do these buzzwords mean? If you want to learn more, read our blog article, Agile Project Management - What It Is and What It Is Not.
IT Leadership
"Leadership is unlocking people's potential to become better." --Bill Bradley
Leaders motivate through team building, clearer communication, effective leadership techniques, broadened management perspectives, successful conflict resolution processes, and more.
➤ View ALL our IT Leadership courses
Did you know...
People often use the terms manager and leader interchangeably, but there is actually a stark difference between the two. [
read more
]
What Is Upskilling?
Bringing in external hires versus promoting from the inside is not a new debate. In our blog article, Hiring New Staff vs. Upskilling: The Pros and Cons, you will learn the top 5 benefits of upskilling and how it can help your organization grow, the problems it can cause, and when hiring new staff is preferable.
Writing and Communication
"Communication works for those who work at it." --John Powell
Well-written emails, proposals, and other professional documents put you ahead of the competition and give others confidence in your business, credibility, and trustworthiness.
Did you know...
Workplace communication statistics show that 86% of employees and executives cite the lack of effective collaboration and communication as the main causes for workplace failures. On the other hand, teams that communicate effectively may increase their productivity by as much as 25%. [
read more
]
AWS Discovery Days
As an Official AWS Training Partner, Accelebrate is pleased to host a free AWS Discovery Day. What are AWS Discovery Days? AWS Discovery Days are free training events that serve as a foundational-level introduction to cloud topics.
Join us on February 10, 2023 for two AWS Discovery Day events:
Cloud Practitioner Essentials (10am - 1pm ET)
Learn how to use AWS services to improve business processes and gain an understanding of how to benefit from AWS security and compliance services.


Fundamentals of a Modern Data Strategy on AWS (2 - 4pm ET)
Learn how to modernize, unify, and innovate your way to a modern data strategy with AWS.

New Accelebrate Courses
➤ View ALL our New Courses
Customized, Private Training for Your Team
Don't settle for a "one size fits all" course for your team!
We can customize any class we teach to meet the goals of your participants,
ensuring you receive training that is 100% relevant to your learners.

Open Enrollment Classes & Free Webinars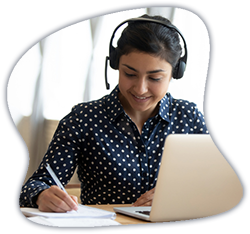 Looking to boost your skills? Join us for these open enrollment classes for individuals.
Upcoming FREE webinars:
Visit our Webinars & Videos page for a complete list of upcoming and previous webinars. Previous webinars are linked to the recordings on YouTube.
Welcome
Accelebrate welcomes Alysha Ardizzone! Alysha joins Accelebrate as its Business Development Manager to build relationships with clients and devise training programs that help them achieve their goals. [read more]
Did you get this email from a friend? Did you see it on our website?
Do you want to get your very own copy delivered to your inbox?

Click here to subscribe!
Find us on Facebook, follow us on Twitter,
watch us on YouTube, and connect with us on LinkedIn.