Design Thinking Training Overview
Introduction to Design Thinking training course teaches attendees how to pinpoint the mindsets and needs of the audience for whom they are creating software. Attendees learn how to identify innovative solutions by starting with quick, low-fidelity experiments and gradually increasing their sophistication.
Headcount Cap: Due to the intensive instructor interaction in this class, headcount is capped at 10 attendees per delivery.
Location and Pricing
Accelebrate courses are taught as private, customized training for groups of 3 or more at your site. In addition, we offer live, private online training for teams who may be in multiple locations or wish to save on travel costs. To receive a customized proposal and price quote for private on-site or online training, please contact us.
Design Thinking Training Objectives
All students will learn how to:
Understand the design thinking process
Identify and assess opportunities through customer needs analysis
Create clear product specifications based on customer needs that are desirable (human), feasible (technology), and viable (business)
Generate and evaluate new product and service concepts through applied creativity
Learn iterative prototyping
Design services for enriched customer experiences
Evaluate the economics of product development
Plan and manage innovation projects effectively
Design Thinking Training Outline
Expand All | Collapse All | Printer-Friendly
Understanding the Design Thinking Process
Overview of Design Thinking
Desirable, Feasible, Viable
Design Thinking, Lean, and Agile
Four Question, Ten Tools
Working as a Team: Radical Collaboration
Multidisciplinary teams
Familiarity working together
Leadership buy-in and support
Comprehension - "What Is"
In-depth Interviewing and empathizing
Define your Point of View
Generating Insights (synthesizing)
Journey Mapping
Value Chain Analysis
Create Clear Product Specifications Based on Customer Needs that are Desirable, Feasible, and Viable
Ideation and the brainstorming process
How Might We question
Concept Development
Prototyping - "What Wows" (Generate and evaluate new product and service concepts through applied creativity)
Iterative prototyping
Basics of prototyping
Testing
Storytelling
Testing/Evaluation - "What Works" (Evaluate the economics of product development)
Assumption Testing
Learning Launch
Feasibility (Business)
Viability (Technology)
If you missed our live Design Thinking webinar, we have the recorded version for you here! Get a great overview of how to successfully incorporate Design Thinking into your processes to create better products, move faster, and save money.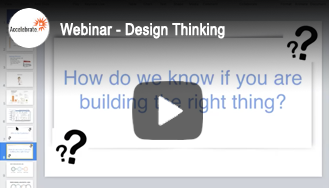 Course Number:
AGL-172
Duration:
2 Days
Prerequisites:
There are no prerequisites for this class.
Training Materials:
All Design Thinking training attendees receive comprehensive courseware.
Software Requirements:
No software is required. Students should be seated in pods of 3 or 4, with a notebook and pen for each student. Each pod should have a flipchart with multiple colors of markers. The instructor will require connectivity for her/his laptop to a projection system and Internet.