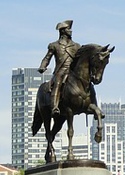 Accelebrate teaches on-site Apache Spark training courses at client sites throughout the Boston area and other Massachusetts sites.
Apache Spark is an open-source cluster-computing framework used in large-scale data processing and analytics. Accelebrate's Spark training prepares your developers with the skills they need to successfully develop Spark applications.
Accelebrate's expert instructors deliver onsite or online Apache Spark training for your team of 3 or more attendees. Any course can be customized to meet your goals and needs.