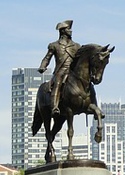 Accelebrate teaches on-site Apache Spark training courses at client sites throughout the Boston area and other Massachusetts sites.
Apache Spark is an open-source framework used in large-scale data processing and analytics. It provides high-level APIs (application programming interfaces) for Java, Scala, Python, and R and supports various data processing tasks, including batch processing, streaming, machine learning, and graph processing. Spark is fast and scalable; it can process data up to 100x faster than Hadoop MapReduce and scale to thousands of nodes. Spark is also fault-tolerant, so it operates even if some of the nodes in a cluster fail. Spark is used by Netflix, Yahoo, and eBay, as well as academic institutions and research organizations.
Our Spark courses cover topics in data engineering, data science, data analytics, and machine learning using PySpark (the Python API for Spark), with an eye to scaling workloads on-premises or in the AWS or Azure clouds. We welcome teaching Databricks, a commercial distribution of Spark, on request.
Accelebrate's expert instructors deliver onsite or online Apache Spark training for your team of 3 or more attendees. Any course can be customized to meet your goals and needs.