Tuesday, March 22, 2022, marks the 20th anniversary of Accelebrate's founding. On that day, I woke up early at my condo in Midtown Atlanta and walked the few blocks to the Starbucks that stood at 7th and Peachtree Streets, where I worked the entire day on my laptop while nursing a single $3 beverage (thanks, Starbucks!):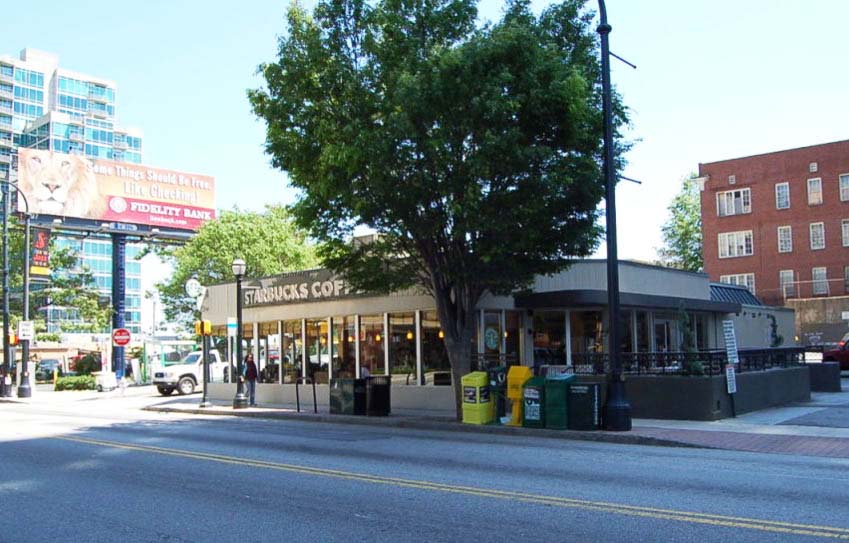 For the first 18 months, I edited computer books for various publishers and taught as a freelance instructor. During that time, I realized there was an intense need for technical training that was tailored to the client's learners and their goals. So, I set about building the first Accelebrate web site (using a $30 Dreamweaver template) to advertise myself directly to clients: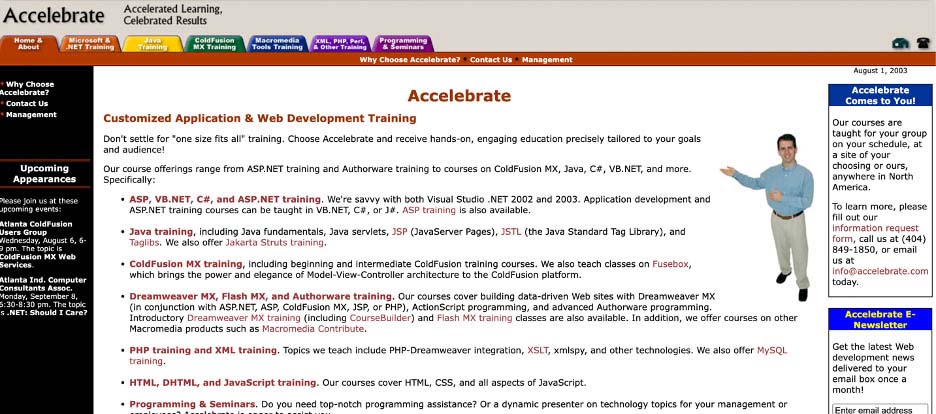 By November 2003, I had my first clients: ExxonMobil (VB.NET), Murray State University (ColdFusion), and Whiteman Air Force Base (PHP). I envisioned that I'd spend the next many years teaching at a new client each week.
But in January 2004, I came down with a multi-month sinus infection and had to quickly find independent instructors to step in and teach the classes I was scheduled to teach and they did a much better job than I would have. It dawned on me that this was a much better business model than spreading myself thin and teaching all the classes myself.
There have also been a lot of changes in technologies over the last 20 years. Some of the big changes:
| | |
| --- | --- |
| 2002 | 2022 |
| .NET was new in 2002! | .NET is still going strong. |
| The Agile Manifesto for software development was a brand-new ideology. | Agile and its variants are dominant in software development and numerous other fields. |
| Clients would proudly show me their data centers and how they were expanding. | Clients show me how those same data centers are shrinking as more and more of their operations are moved to AWS, Azure, and other cloud platforms. |
| ColdFusion, Flash, Authorware, Perl, and PHP were all the rage in 2002. | Sadly, all have since dwindled or disappeared. |
| What's Mobile Development?? We didn't have smart phones or carry a web browser in our pocket. | Our phones are used more than our desktops and JavaScript has grown and splintered in many frameworks (not all surviving). |
| Bandwidth! In 2002, I was rocking 3Mbps DSL service from Earthlink and happy to have 802.11b Wi-Fi. | In 2022, I'm online 300+ times faster with AT&T Gigafiber and Wi-Fi 6. |
| In 2002, nearly all our training was in-person. | In 2022, more than 90% of our business is online. |
When we began, our classes took place in established training centers and most companies didn't have their own IT training rooms. By 2007, almost all our clients had spaces that worked well for training as conference rooms were equipped with large flat screen TVs and reliable wireless internet. During the past two years, we have shifted our training online and most of the learners have been working from their own homes.
In 2002, most of the training we delivered was for software and database developers. Today, we still teach extensively for developers, but a much larger portion of our classes are for other professionals whose roles have become progressively more technical and more collaborative. Classes on data science programming, data visualization, collaboration tools (like Microsoft Teams and Jira), and low-code/no-code automation platforms (like Blue Prism and Power Automate) are now in high demand across a wide range of professions.
Course materials have become more dynamic and less formal. In 2002, we and our partners wrote multi-hundred-page training guides for software that was installed locally and changed only every few years. Today, we lean much more heavily on fast-changing online documentation and real-world, hands-on exercises tied to each client's actual work. This is necessary because most of the applications and platforms we teach have at least monthly updates (and are often running in the cloud rather than on local computers).
Back in 2002, vendor-specific training (Microsoft, Oracle, even a little Novell!) was dominant and large organizations were still reluctant about open source software. Today, many of the most popular languages and tools we teach, like Python, Pandas, R, and Spark, are open source and not under the control of a particular vendor.
Over the past 20 years, one thing has remained constant: that we could not do what we do without opportunities and long-term loyalty from our clients, who in recent years have spanned every US state, every Canadian province, and more than 30 countries. Thank you! We wish you even greater success over the next 20 years and look forward to continuing to serve you.
---
Written by Steve Heckler
---