Amazon Web Services launched in 2006 and revolutionized the web by the way it stored data. Fast forward to today, AWS is now the world's leading cloud provider, and the job market needs to keep up with the hottest trend in the IT landscape: cloud computing.
Increasingly, businesses and enterprises are shifting to the cloud in search of security, efficiency, and innovation. This has led to a critical lack of talent with the necessary cloud skills to help organizations achieve their goals.
As a result, the shortage of skilled AWS practitioners has left a wide cloud skills gap in the IT market sector, putting cloud computing experts with AWS certifications in high demand.
However, are all AWS certifications worth it? Which AWS certifications are most in demand? What are the advantages of each certification? This article clearly explains the different types of AWS certifications (and how you can benefit from each) whether you are a freelancer, full-time employee, or employer.
First Things First: What is AWS & How Does It Work?
AWS stands for Amazon Web Services, a comprehensive cloud computing platform that has been adopted worldwide. It offers over 200 flexible, scalable, easy-to-use, and cost-effective cloud-based services developers can easily access from anywhere, at any time.
Instead of the daunting task of buying, owning, and maintaining countless physical data centers and servers, AWS allows people to access technology services, such as computing power, servers, storage, networking, and databases, on an as-needed basis with pay-as-you-go pricing.
What is an AWS Certification?
An AWS certification is a level of verified Amazon Web Services cloud expertise a person obtains after successfully passing AWS exams.
Certified AWS employees build credibility and continue their professional development by sharpening their skills and validating their cloud expertise with an industry-recognized credential. Whether looking for a new career path, upskilling, or becoming a company's go-to cloud expert, getting AWS certified can help propel a cloud career to new heights.
Different Types of AWS Certifications
Amazon offers multiple certifications, spanning foundational through specialty cloud computing topics. The first step to obtaining these credentials is figuring out which of the AWS certifications is most in demand and suitable for your professional aspirations, whether you are a company or an individual.
Popular AWS certifications include:
For How Long Are AWS Certifications Valid?
The obtained AWS certifications remain valid for three years. To maintain their "AWS Certified" status, candidates must demonstrate their hands-on experience and technical expertise periodically through recertification.
The Global AWS Skillset Shortage: The Talent Gap Explained
The massive shift of the tech industry to the cloud and the lack of skilled cloud professionals affects organizations globally. There's an ever-increasing number of organizations investing in their digital cloud infrastructure. They are attempting to do this by implementing AWS solutions as a cost-effective way to increase security, agility, and efficiency to gain (and keep) a competitive advantage.
However, they're struggling to find the talent with the necessary technical skills to power their AWS projects.
The huge demand for AWS-certified IT experts has left the talent market with a cloud services gap and an AWS talent shortage, making earning an AWS certification one of the smartest investments both companies and tech-savvy individuals can make in today's cloud environment.
Benefits of Getting AWS Certified
AWS certifications stand out for their rigor and thoroughness in evaluating candidates' skills, emphasizing hands-on experience and best practices. If you're already familiar with working in AWS, the learning experience of becoming certified can help strengthen your knowledge and be a door opener for numerous job roles.
If you're new to AWS, certification can provide the rock-solid knowledge foundation and in-demand skills you need to work with top-tier AWS services and solutions in the future.
Becoming certified shows that you have a deep understanding of cloud resources and some of the most in-demand skills to fill the AWS shortage.
What AWS Certification Is Most In Demand?
Regarding AWS certifications, The Solutions Architect – Associate certification seems to be the most popular one, as it provides a solid foundation in AWS cloud computing and some of the largest average AWS salaries.
Amazon Web Services (AWS) is one of the big three cloud computing giants of today, alongside Google Cloud Platform (GCP) and Microsoft Azure. You might be wondering which certification is better, AWS or Google Cloud? Which is more in demand, AWS or Azure?
In addition AWS has the dominant position amongst its competitors, with a lion's market share of 33% and annual growth above the overall market.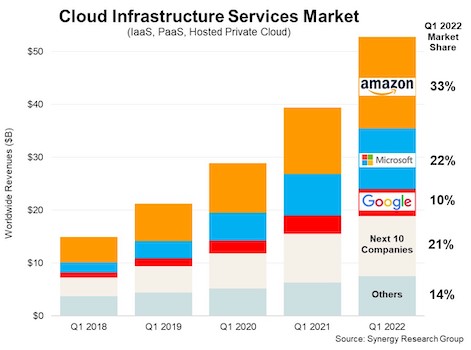 What Is the Average AWS Certification Salary?
AWS certifications don't just look good on the resume, they help certified cloud experts secure well-paying IT positions. Most AWS certifications are lucrative, pulling in an average salary of more than $100,000, making them some of the top-paying certifications available. The AWS Certified Solutions Architect professional–level is the highest paying AWS certification, with an average salary of $162,440 in the United States in 2021.
How Hard is it to Get AWS Certified?
Earning an AWS Certification requires passing one or more timed, proctored certification exams. There are no set-in-stone steps to the AWS learning path. Depending on your previous knowledge and personal perspective, the certification process can differ from person to person. Your organization may benefit from an online AWS Learning Needs Analysis (LNA) to assess your team's AWS skills, identify gaps, and recommend training to close those gaps. Contact Accelebrate for an LNA for your group and to discuss the AWS Certification road map.
The AWS Certified Cloud Practitioner (CCP) is considered to be the "easiest" AWS certification as no prior technical experience is required. But what is the most difficult AWS certification? The SysOps Admin is usually considered the "most difficult" AWS certification as it requires more in-depth skillsets and advanced certification exams.
The Bottom Line: Are AWS Certifications Worth It?
As companies small and large increasingly shift their workloads to the cloud, cloud computing services have moved from a nice-to-have to a necessityfor modern-day enterprises.
Upskilling your existing staff with Amazon Web Services (AWS) Training Courses will save you time and cost compared to recruiting and training new staff. As an official AWS Training Partner (ATP), Accelebrate offers live, online or onsite training with AWS Authorized Instructors (AAIs) to help your staff grow their AWS skill set and prepare them to pass the AWS certification exams successfully.
---
Written by Accelebrate
---