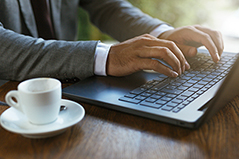 Are you communicating effectively? How do you know that the intended message was received? In a world where we now rely heavily on written communications without the visibility of body language and tone, it has been become increasingly challenging to convey information in an effective manner.
A favorite expression that came up frequently (in fact daily) in my Technical Communications program at UC Berkeley is "strive for economy of language." How do we say what we want to say, in as few words as possible, while still making it clear to our intended audience? Time is a finite commodity and asking your reader to slog through paragraph after paragraph is unreasonable, if not torturous, and wildly ineffectual.
Benefits of Clear and Concise Written Communications
You will gain your reader's attention
This is an important first step in opening communication. If you don't have your readers' attention, they aren't going to absorb your message.
Your reader will learn something
Whether you're trying to inform your audience or answer their questions, finding a balance between providing enough details and avoiding being overly wordy, will get your message across in a clear manner. No one wants to guess what you're trying to say, but at the same time, they don't need superfluous details to confuse them. You'll increase retention of your message if you find that balance.
You will foster trust and understanding
Be honest and succinct with your wording, and avoid divertive writing by hiding bad news or negative details in the body of a lengthy paragraph. You will command respect if you speak openly and appropriately, and you'll gain credibility with the reader if you aren't afraid to address the bad stuff.
You will increase engagement
People like communicating with people who are clear and get to the point. If you can reach out to Person A and get an answer in a handful of words, instead of Person B who likes to discuss every detail into borderline minutiae, you will regularly choose to engage with Person A.
Tips for Writing Concisely
Get rid of unnecessary words – take out the "fluff" and avoid using long phrases when a single word will do. Keep your writing tight and focused without unrelated details.

The proposal I have attached to this email has all the necessary information to address your specific requirements. (18 words)
Better: The attached proposal is addressed to your specific needs. (9 words)
Use simple language – avoid technical jargon. Use straightforward language that anyone can comprehend regardless of their background.
Once we ideate deliverables, we can determine how to roll out scalability.
Better: Once we develop our product, we can determine distribution based on demand.
Edit - re-read what you have written. Can you cut back on the number of words used or simplify the language?
These areas are the cornerstones to substantiate our product claims.
Better: These key areas demonstrate our product claims.
Learning to be brief in your communications without sacrificing necessary details will serve you well in your career, and the benefits will undoubtedly spill over into your everyday life. Effective communication is an art and lifelong skill that needs continuous practice and enhancement.
---

Our offerings in the Writing and Communications space will allow you to elevate your writing skills and sharpen your ability to communicate more effectively:
If you are a Business Analyst and need to write clear, compelling business cases and requirements, these courses will help you:
---
Written by Donna Zibresky
---