"Content is king" the saying goes. And everyone is creating content now. Blogs. Social media posts. Articles. Videos. Infographics.  The list goes on and on.  But how do you know what content you should create? 
To do that, you'll want answers questions like:
How many people are searching for this topic each month?
How competitive is the topic?  Are there many other people talking about it, meaning you will have little chance of showing up?
How good is the other content out there?
Can you produce better content than what is currently showing up in the first page of search results?
Will people share it and link to it?
Fortunately, using some free tools you can do quick analytics to answer these questions.  There are several keyword tools available that track the keyword searches entered into search engines each month and in what quantity. 
For example, a term like "cat pictures" likely gets millions of searches per month.  A phrase like "how to help a cat get a hairball out" is a more specific query with a more targeted audience and is likely much easier to rank for in search engines. You can find this data using these free tools then drop it into a data analysis tool like Excel, or even better, a data visualization tool like Tableau to find the answers you need.
Two of the popular tools on the market today that can help you to narrow your keyword searches are Microsoft Keyword Planner and the Google AdWords Keyword tools. The Google AdWords tool is perhaps the most effective of the two as more searches happen on Google's platform than on Microsoft's. Both tools are free to use, however the advantage of the Microsoft Keyword Planner is that you can sign up and use the tool without placing a credit card on file to setup your payment information. Google requires you to setup your payment details before you have the chance to run the Google AdWords tool. Also, once you create an account with Microsoft, you can also install an Excel plugin that would enable you to run a keyword search within Microsoft Excel in the same way you would via the website. For a small and upcoming company, using Microsoft's platform may be the most cost-effective approach.
Using the Microsoft Keyword Planner
To use Microsoft Keyword Planner tool you simply visit the website and register a free account and select Research Keywords in the tool menu.

In the query window you can enter keywords or phrases, and then the tool will search and return other related search phrases.
In the example below, you can see that Tableau Training, Tableau Course, and Tableau How to have been entered in the box in order to search for other similar or related phrases to enable us to understand what customers are searching for the most, and what other terms might also allow us to reach potential clients. 

The Data
Now you will receive an output that gives you information on what your audience is searching for online regarding your topics or phrases of concern. You have the option to export the result in a CSV file. Immediately, you will see the suggestions that the tool outputs based on the phrases you queried.  Some of the metrics that the keyword tool provides include:
Number of monthly searches
Impressions (people who viewed your link in the search results),
Clicks
Click Through Rate (%) (which is the percentage of people who clicked on a link vs. saw it appear in the search results)
Spend (total dollars spent on this ad)
Average cost per click (spend / clicks)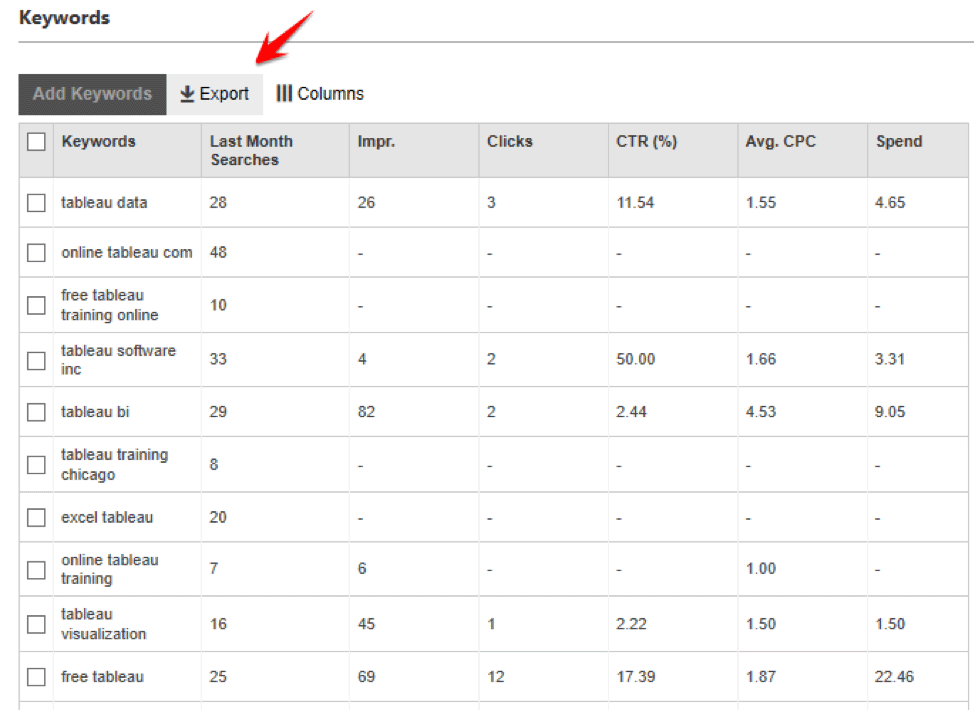 Now that the you have researched your keywords and found data on searches and suggested keywords, it's time to perform analysis. You can perform your analysis using a spreadsheet application such as Excel but for the best visual results, you can use the Tableau Desktop tool, which comes with a free 14-day trial, or download the free Tableau Public version.
In Tableau's connection pane, you can select several database options depending on the format of the data source. In this case, you can load the exported CSV document into Tableau simply by clicking the Text file option and locating your exported data that contains your keyword search.

Just as you were able to easily generate an output through your queries, you can easily bring that data into Tableau to begin your analysis.

The Analysis
This is the time to ask questions of the data to identify what insights can be gleamed from it. The goal here is to identify which keywords have the right mix of potential traffic and interest, as well as the ability to actually rank for a term. Limit the keywords to a Top 5 or 10 to easily identify which terms stand out.
These terms get thousands of searches per month (even in Bing, so Google's volume is surely far higher). But they would also be exceedingly difficult to rank for.  We need to find the right mix of competitive factors as well.
There are several factors to consider in ensuring your target audience will easily find your content online. Some of these factors to consider are:
1. Segmenting by competition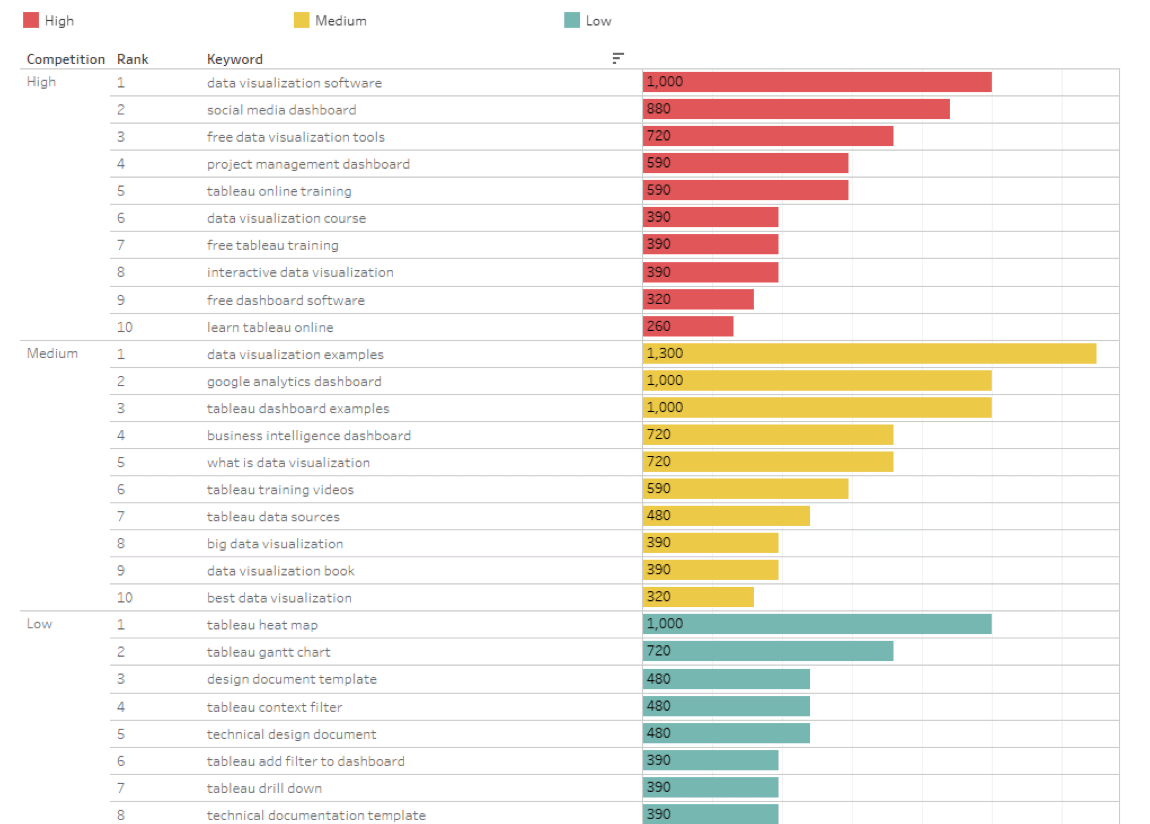 It is important to rank your keywords to see how often people are searching for it on the web. Keywords with a high volume of searches generally means more people are interested in that.  It also means those phrases are more likely to be highly competitive or that other people are creating content targeted at those phrases and ideas.
In this screenshot, we can see keywords ranked by search volume. But how competitive are they? The Data visualization software keyword produces 1,000 searches per month, but would that help your content get exposure online? The chart above tells us that this may not necessarily be a good idea because a lot of people are using this keyword already.
In the same chart we see that a similar key phrase, such as Data visualization examples, produces more monthly searches with less competition. Depending on how the keywords relate to your content or website, you can keep going down the list to find better keywords such as Tableau dashboard examples or Tableau heat map.
The goal is to select low competition keywords that have high monthly search volume because they make it easier for your site or content to get visibility. With a data visualization software like Tableau, we can create an analysis like this very quickly to determine the keywords for which we should devote attention and create content.
2. Segmenting by number of words in search phrase
If you're thinking of buying a new phone online without any specific product brand in mind, you're most likely going to input a search online like mobile phones to see what pops up. At this point you're at the research stage; you're not committed to anything. When you are a little more certain of the product you want, you may input iPhone 8 for Sale. When you're ready to purchase, you may input something even more specific like iPhone 8 for sale in Arlington.

This applies to identifying the keywords used to rank your website or content online. In the chart above, we notice that most of the content with just two keywords have more searches. But as we saw in the analogy above, shorter searches typically mean more high-level research on a given topic or a general search. Three or more keywords is typically a lower funnel type of search or signals higher intent.  These are easier to rank for in SEO and they make your content, ad, or site more targeted and give you the best chance of attracting audiences that are ready to buy, sign-up, or use your content. In this case, we might consider selecting a keyword such as Data visualization examples (rather than Tableau training which is more general).
Pro tip: As you rank for more and more "long tail" terms with three or more words, it becomes easier to rank for more "top of the funnel" search phrases.  By including the phrase Tableau training sprinkled here and there, we'll ultimately begin to rank for that as well.
3. Segmenting by keyword type
When deciding on your keyword or phrase, it is important to consider the type of keyword as well. This allows you to narrow your keyword or phrase so that it relates very closely to your content. In the screenshot below, we see a comparison between keyword searches that involve How to and those that involve a Template or Example. Both keywords are similar in meaning, but one involves learning about a process and the other involves a model, pattern, or an example of something.

In the chart, you can tell that there are fewer searches relating to the How to content and more searches involving examples and templates. Why is this so? Perhaps people want courses that involve practices, templates, examples or a more hands-on related content. With this information, you can revise your content to correctly capture what people are searching for.
4. Segmenting by department or industry
Just as it is important to be mindful of the type of keyword to use for your content, it is equally important to ensure that you use the right type of keyword for the right industry, department, or market. Industry-specific keywords help you narrow your audience to content that relates directly to your domain. In the example below, you see the top 3 keywords in various industries. What stands out in this chart is the fact that almost all the keyword searches match their respective industries.
For example, people in the Marketing department searched Marketing Analytics the most, in Finance searched for Financial dashboards, in Healthcare searched for Healthcare dashboards, in HR searched for HR dashboards, and so forth. This insight shows that if you want to target specific industries you need to include keywords or terminologies in your content with which people in that space are most familiar.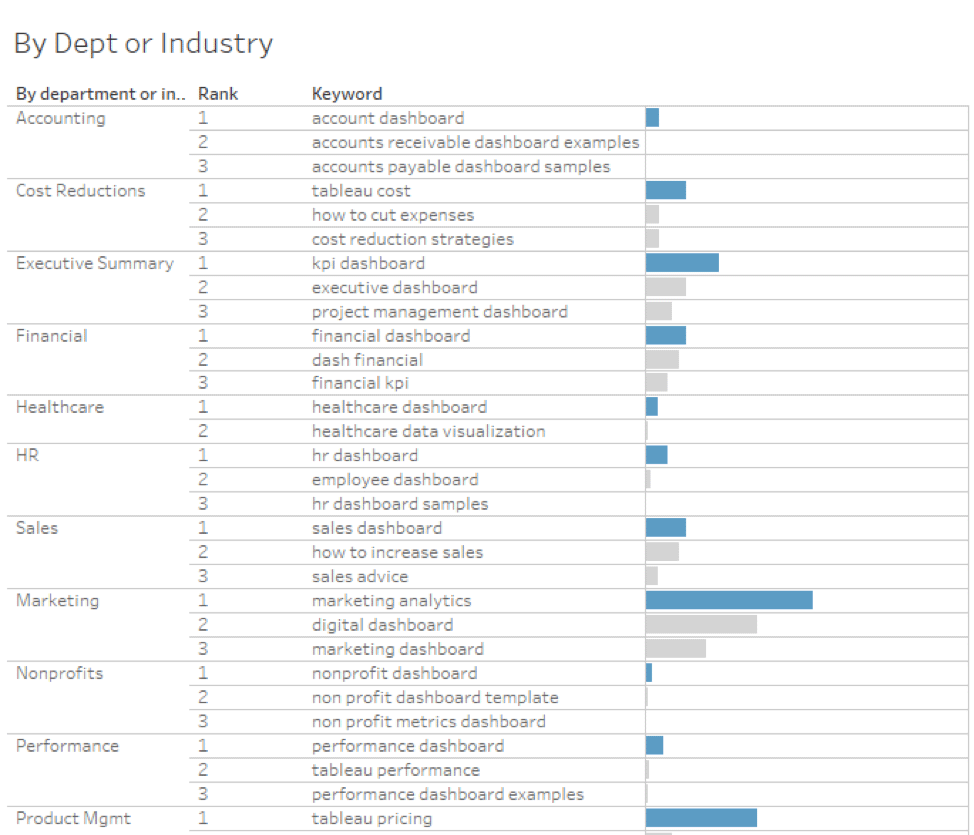 The Decision
At the start of this blog post, you saw an example of a dashboard that showed how Tableau How To ranks very highly in almost all the benchmarks you used to compare keywords. It seems that most of your target audience is more interested in searching for tutorials or lessons that involve a more hands-on approach to training. You'll have to examine the trends and types of searches related to keywords in your industry. Patterns like this will allow you to better target your content creation and content marketing efforts.  You might use insights like this to fine-tune your ad campaigns or content strategy to incorporate the keywords you decided on. In our example, we could change our ad from saying "Tableau Training" to saying something like "How to be a Tableau Analyst".
While these useful insights will enable you to produce content people need and for which they search, we can also see that several other factors besides the number of searches come into play in developing a very effective SEO strategy.
For example, you found out that keywords with the most searches are very competitive and that selecting low competitive keywords such as Tableau dashboard examples have a better chance of being ranked than a keyword such as Data Visualization Software.
Another insight you discovered was the fact that longer-tailed keywords are better at reaching an audience that is ready to sign-up or use your content. So, for example, instead of advertising Tableau training or Tableau course, you might want to instead use something like Training for entry-level positions as a Tableau Analyst.
You also found out that the type of keyword you use is very important for exposure. You saw how more searches were made for keywords that involved Data visualization examples or Dashboard templates rather than How to learn Tableau.
Lastly, you discovered that in targeting specific industries, departments, markets, etc., you would need to include a keyword in your content that is more familiar to your audience.
Conclusion
With insights like these, you can drive content strategy, SEO strategy, and paid ad strategy. You can have a clearer, faster sense of the results you can achieve, making your strategy much more data-driven instead of 'gut feel.'  You can answer questions like:
What are people searching for?
What do they need or want?
What content should I create?
How much will a particular ad cost?
What kind of results could we expect to achieve?
This makes you more powerful in meetings, as you can clearly present solid data to back up your decisions. If you and your colleagues would like to learn how to do more of this, check out our private, tailored Tableau Training courses for your team.
---
Written by Ryan Nokes
---