While agile is the same at its core no matter what department uses it, marketers are finding their own flavor that meets their needs. Learn how marketers are making agile work in their world!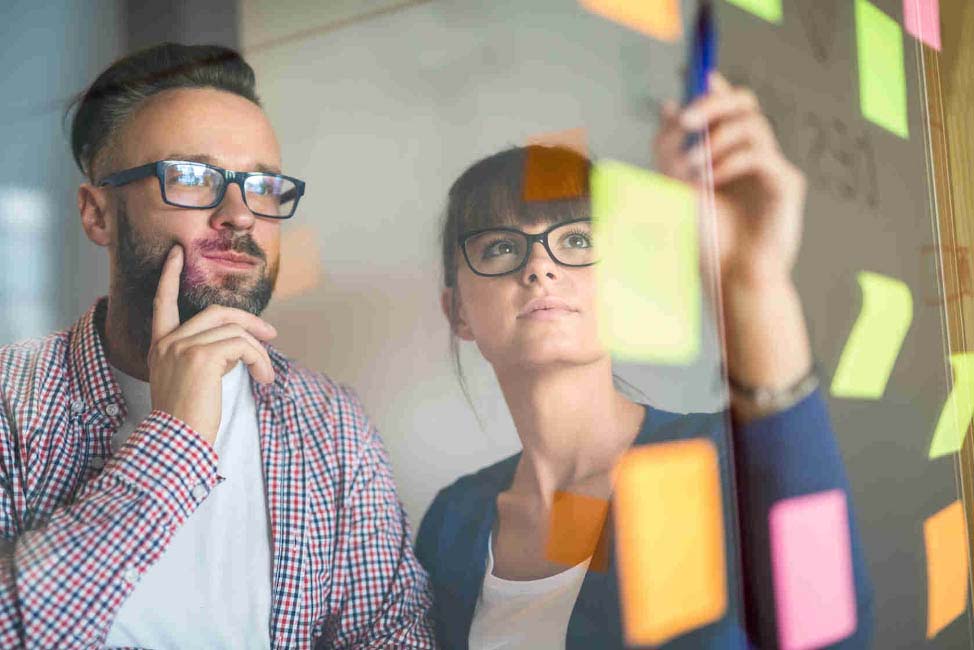 A Manifesto That Speaks in Marketers' Language
The software industry has had the Agile Manifesto that hasn't changed in nearly two decades. The marketing community decided to create a similar, but differently worded Agile Marketing Manifesto that more closely aligns with their world.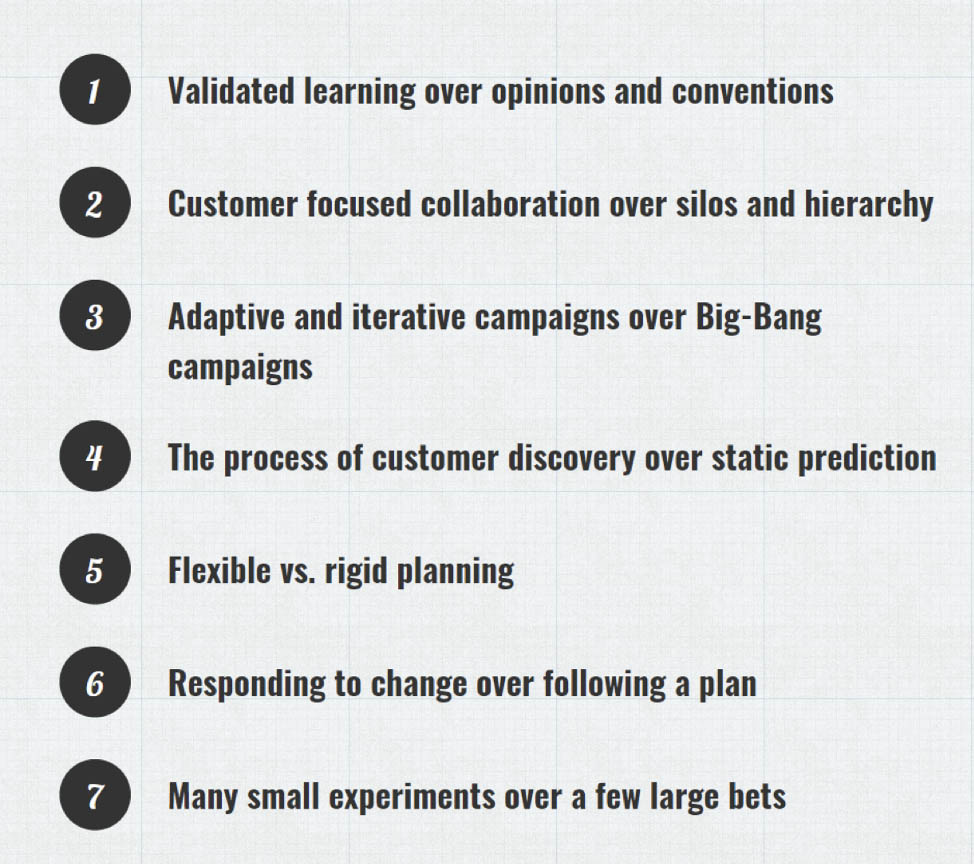 Image Credit: http://agilemarketingmanifesto.org/
A few key revisions for marketers are:
Adaptive and iterative campaigns over Big-Bang campaigns.
Many small experiments over a few large bets.
The process of customer discovery over static prediction.
Overall, the values and principles boil down to a similar mindset in both worlds—adaptability, flexibility, and better collaboration with customers.
A Framework Agnostic Approach
In software development, the most widely used framework is Scrum with two week sprints. In marketing, Scrumban (a little bit of both Scrum and Kanban) is the most popular way to apply agile.
If you're wondering why there's this difference from software developers to marketers in how they apply agile, here are a few observations:
Marketers often find Scrum to be too rigid if they are used to a very free flowing way of working. This is especially true in agencies, startups and smaller companies.


Social media and other forms of digital marketing require almost immediate customer response times, so planning a one or two week sprint isn't doable.
A common way that marketers are getting started with agile marketing is with a prioritized marketing backlog to organize upcoming work, daily standups to communicate and collaborate as a team and workflow visualization to see where campaigns are at—To Do, In Progress or Done.
Marketers from larger companies, especially where software is already applying Scrum, are tending to lean on more traditional Scrum practices and are incorporating time-boxed sprints to complete work, sprint planning meetings, retrospectives to discuss how the team works together and sprint reviews, where stakeholders can offer feedback on the work done in the current sprint.
Consolidation of Scrum Roles
In software development, you typically see the Scrum roles of Product Owner and Scrum Master. In agile marketing, it's common to see these roles combined as one and called the Marketing Owner.
The Marketing Owner role is typically filled by someone in product marketing, marketing strategy, or project management. The best fit for this role is someone that is already involved in planning marketing work and has the authority to make trade-off decisions.
The main reason that marketers aren't bringing on a full time Scrum Master is budget. Marketers are already stretched thin, work long hours, and are expected to do more with less. Hiring a full-time person that doesn't produce marketing is a tough sell in this field.
When marketers get going with agile, they're finding they don't have the internal knowledge and don't have anyone that can fulfill the Scrum Master role. Therefore, many marketers are turning to an external agile marketing coach as a part-time consultant to guide them through the early stages of agile marketing.
Using Minimally Viable Personas
While personas are sometimes used with software teams, they're more widely used with marketers. A lot of marketers have traditionally spent weeks (or months) trying to research the perfect persona for their marketing campaigns. While this research is useful and helpful, it can delay getting real work out the door.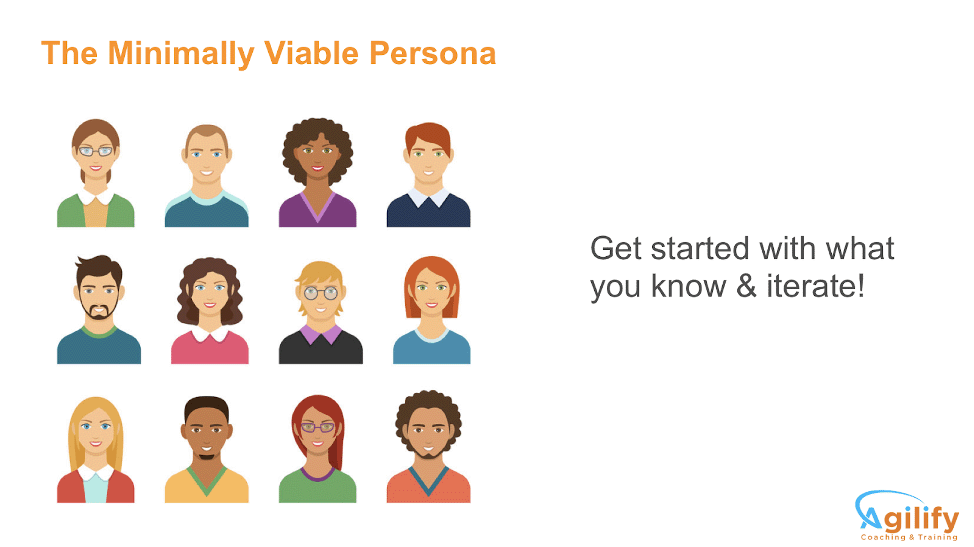 With minimally viable personas, marketers take an iterative, agile approach to this process, starting with what they know while simultaneously still working on campaigns. As they learn more over time, the persona evolves.
Focusing on Customers Rather Than Users
User stories have been a great technique in software development for understanding work from the perspective of a user of a system. Developers can think about a web site and what a user would do and how the system solves a problem.
In marketing, the approach is similar, but in my classes, I refer to this technique as a customer story. Marketers look at the work from the perspective of "Who, What, and Why". Who is the persona, what is the work the team is going to do, and why is the benefit to the prospective customer.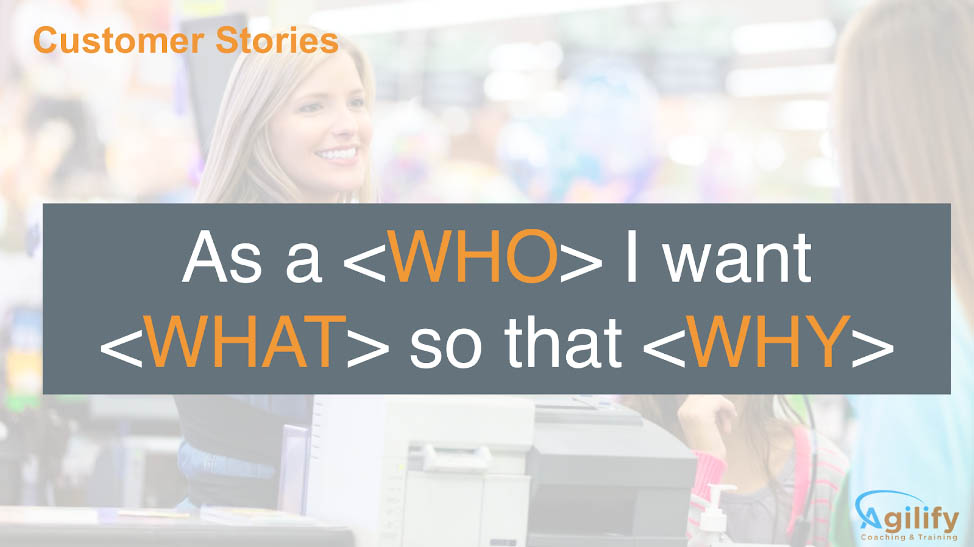 A sample customer story reads like this:
As a single mom, I want to read about traveling on a budget with kids so that I can afford a vacation.
The persona here's a single mom, the work is an article about traveling on a budget with kids, and the customer benefit is learning ways in which she can travel on a budget with kids.
By flipping how marketers think of work from the company's point-of-view to the customer's point-of-view, they're able to create campaigns that better resonate with people.
Writing 'Brief' Briefs
In marketing, a creative brief is a lot like a traditional requirements document in software development. The problem with most briefs is they're anything but brief!
With agile marketing, we take a just-enough, just-in-time approach. A creative brief needs to be brief and show the minimum amount needed for the team to have some creative direction, but not be so prescriptive that it stifles the team from actually being creative!
Breaking Work into Micro-Campaigns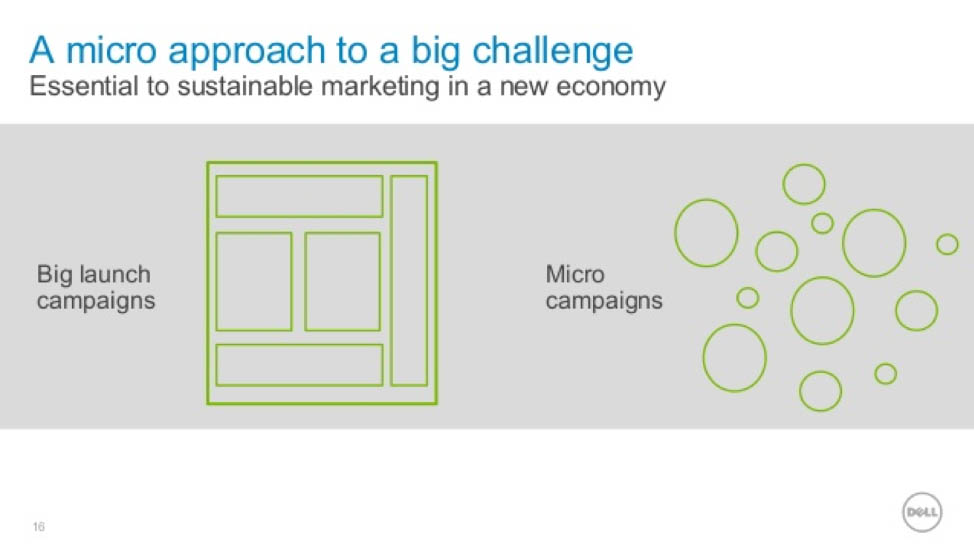 Image Credit: https://www.slideshare.net/Demandbase/agile-innovation-for-the-b2b-marketer-62986906
In software, agile practitioners iterate on product development and build software incrementally. In marketing, the concept of getting work out in small iterations is the same, but instead of product development, we're typically talking about campaign evolution.
Agile marketing is all about micro-campaigns, short campaigns where marketers can quickly test and learn if their marketing is resonating with customers, allowing this rapid feedback to inform what they should work on next.
A traditional marketing campaign would involve all campaign elements being planned and released in one big bang. For example, a company is launching a new product. They would plan out social media posts, blogs, videos, TV spots, etc. upfront and launch everything at once.
Using an agile marketing approach, they would look for the fastest, lowest-cost, and least-risk thing to do first, such as a social post to subset of their market. They would test messaging and graphics and then decide if they want to continue. A second iteration might be a blog article. They continue testing, learning, and iterating with all elements of the campaign and switching gears when they learn they're on the wrong path.
Launching Minimally Viable Campaigns
While software teams apply user story mapping techniques to determine when a product can be released with the highest value and soonest timeline, marketers are applying a similar approach to look at minimally viable campaigns.
During agile marketing training, marketers are given a campaign idea and have to come up with as many ways to market it as they can. When the timeline gets reduced, they are forced to look at which campaign ideas they absolutely have to do, how quickly they can launch, and which ones can go at a later date.
It's an exciting time for marketers, and they have a lot to learn from software teams who've been practicing agile for awhile, but it's nice that marketers are also paving their own way and adapting agile to meet their needs.
---
Written by Stacey Ackerman
---