Bringing in external hires versus promoting from the inside is not a new debate. Business owners and human resource managers have long since covered every aspect of the issue.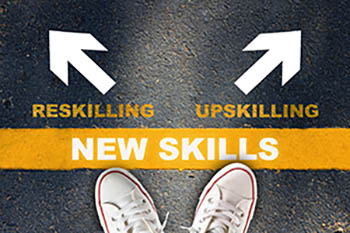 In the end, the answer is that it is a balancing act.
You can strike that balance by understanding the pros and cons of upskilling versus hiring new staff and learning how they apply to your organization. In this article, you will learn the top 5 benefits of upskilling and how it can help your organization grow, the problems it can cause, and when hiring new staff is preferable.
But before we get to that, let's start from the beginning. What does upskilling mean?
What Is Upskilling?
A formal upskilling definition would be "elevating the existing skills of an individual, typically an employee, or enabling them to acquire new, closely related ones, through training or education, usually with the purpose of filling a skills gap within an organization."
In simpler terms, upskilling is improving an employee's skills or teaching them new ones. If we were to use gaming terminology, it would be the equivalent of leveling up. Let's give an example to make it clearer.
Let's say you are running a marketing agency. Among other things, your agency provides content creation services. One of your junior writers (we'll call her Holly) is skilled and creative but has no experience using SEO (search engine optimization) tools to optimize content.
Consequently, Holly is relegated to writing simpler, non-optimized articles. Because Holly shows potential, you decide to enroll her in an SEO course or provide in-house training. Once Holly has finished her training, she will become a content specialist and begin writing SEO-optimized content.
Holly's advancement from junior to specialist would be a clear example of upskilling.
Upskilling vs. Reskilling
So, upskilling is improving existing skills and learning new ones. Then, how is upskilling different from reskilling? It depends on how different the new position's skills are  from the previous one. But because the degree of difference is often subjective, upskilling and reskilling are sometimes used interchangeably.
Let's get back to Holly and put her in several hypothetical situations:
Situation 1: The one described above:  junior writer to content specialist. This is a clear example of upskilling.
Situation 2: Holly is a junior writer at your company, but she wants to switch to technical SEO. This would be a clear example of reskilling, as the difference between the two positions is large enough.
Situation 3: Holly is a content specialist with knowledge of search engine optimization. She wants to switch to technical SEO. Would this be upskilling or reskilling? It can go both ways, depending on where you draw the line.
In truth, it's not that important how you differentiate between upskilling and reskilling, as long as your approach is practical and fills a skills gap in your company. Now that we've cleared that up, we can get to the pros and cons of upskilling vs. hiring new staff.
5 Pros of Upskilling Employees vs. Hiring New Staff
1. Risk Management
Regardless of how many phases your hiring process has or how in-depth it is, you can never be 100% certain of how well a new hire will perform. As every company owner or hiring manager knows, you'll only know who you've got once they are on your payroll. And by then, it might be too late.
The new hire may not fit your company's culture or vision. They may be very good at promoting themselves but lack the technical skills. Conversely, they may meet all of your criteria, but decide that your company is not the right place for them shortly after getting hired. Regardless of the reasons, you may have hired a new employee only to learn you will not retain them and now your resources have gone to waste.
Upskilling your employees minimizes these risks. You know, with certainty, how they fit and whether they wish to stay with your company. You know how dedicated they are and can gauge their potential. All that is left is teaching them new skills and this is usually the easiest part of the process.
2. Cost Effectiveness
According to the Society for Human Resource Management, the cost to hire a new employee in 2022 is approximately $4,700, on average. However, the cost to hire generally rises depending on the position's salary. Currently, the average time to hire (the time from the beginning of the hiring process to actually hiring an employee) is 41 days.
If you are outsourcing the hiring process to a headhunter, the costs go up. How does that compare to upskilling an employee? There are two main factors that determine the cost:
The rise in salary (assuming an upskilled employee will earn a higher salary)
The cost to train/educate the employee
While these costs highly depend on the specific situation with which you are dealing, as a rule of thumb, the cost of upskilling will be lower than the cost of hiring new staff.
3. Increased Flexibility
Upskilling employees comes with another major benefit for your company: employees who have learned new skills retain their old ones, allowing them to fill multiple positions, if necessary.
Having a flexible team is a great strength, particularly in today's shifting business landscape. An employee that can fill multiple positions effectively may be worth their weight in gold in the right circumstances. On top of that, an upskilled employee can easily take on the role of training new employees.
4. Talent Retention
Every company wants to retain its top talent. There are many ways to retain employees – competitive salaries, a supportive work environment, benefits, etc., but a major factor that cannot be overlooked is the possibility of advancement.
Even the most loyal of employees will start questioning their position if they feel like they've hit their ceiling. Upskilling employees allows them to grow with your organization, instead of forcing you to invest time and resources into hiring new staff (and hoping this works out).
If you are unsure about how important it is to invest in employee retention in 2022, consider that workers have been resigning in droves since 2021 – so much so that we even have a term for it, the Great Resignation.
5. Employee Motivation and Company Culture
The final benefit of upskilling is closely related to the previous one, just on a larger scale. Any business that wishes to grow should strive to create a culture of continuous development. Once a business stagnates, it is difficult to get it back on the right track.
If your employees know that they can advance in your company, they will be motivated to work harder, thus increasing their output. On top of that, your current employees know how your company operates and understand the culture, so they can act as the foundation when new staff is inevitably hired.
Are There Cons to Upskilling?
By now, it may seem like there are downsides to upskilling. Naturally, nothing is ever perfect, and there are two cons to upskilling:
The cost: while upskilling is usually more cost-effective than hiring new staff, it is not always so. You may find yourself in a situation where it is clear that hiring a new member is the financially better option.
Recruiting by competitors: when you upskill an employee, you are investing resources into them. It's safe to assume that your competitors will try to poach them. Thus, upskilling an employee is better than hiring a new one only when you are reasonably certain you can retain them. 
When is Hiring New Staff More Desirable?
We've discussed the pros and cons of upskilling, but is there a situation when hiring new staff is clearly the better option? Yes, when upskilling is not an option.
The basic purpose of educating and training your employees is to fill a skills gap in your company. However, sometimes upskilling or even reskilling is not an option. Despite her dedication or talent, there's little chance that our content writer Holly can become a graphic designer if she doesn't already have some graphics skills.
In such a situation, your only practical solution is to hire new staff with the right skills to fill the position.
How Do You Upskill Your Employees?
By now, you understand the cost-benefit analysis of upskilling your employees. If you are an IT organization and have staff you wish to train and retain, consider Accelebrate's training courses for your team of 3 or more attendees.
We provide both online and in-person training on a variety of technologies and topics, including  data science, data visualization, Python programming,  AWS, Azure, Agile & leadership, Microsoft & .NET, DevOps, JavaScript frameworks, and security training. Contact us to learn how we can help upskill your staff.
---
Written by Accelebrate
---