You're finally attending that technical training course you signed up for last month. It's your chance to focus on relevant topics, develop your career, and modernize your skills. You want and need to make the most of this opportunity, but maybe it's been a while since you attended formal training.
I have spent 20 years delivering technical courses, from Windows Server to Linux to CompTIA to ITIL, and accumulated many best practices for student success. Let me share some ways you can soak up career-changing knowledge in the fast-paced virtual or in-person world of tech classes.
The list begins with what to do before you even enter the classroom, followed by tips and tricks to use during class. I'll also offer ideas for post-training tasks. The list wraps up with some general advice.
Know Before You Go
Your success begins before you walk in the door or log in to the virtual classroom. Preparing yourself and your environment puts you in the right frame of mind to learn.
Get your courseware early: If your class has formal courseware (many classes these days do not due to how fast the information is changing), request access early. Knowing you can view the content easily lowers your stress level and sets you up for the next tip.
Read ahead: Pre-reading the content, whether a physical book or an online resource, is beneficial. Doing so helps you with vocabulary and gets your mind ready for what's coming.
Minimize distractions: Do what you can to find a quiet, isolated place to attend class. Avoid locations where family members (and pets!), coworkers, or your boss can interrupt you.
Plan to attend: Organize your schedule to ensure you can attend the entire course. Curriculum developers create content in a logical flow, and skipping a part of that flow interrupts the learning process. You may miss a critical piece of information that future sections of the class build on.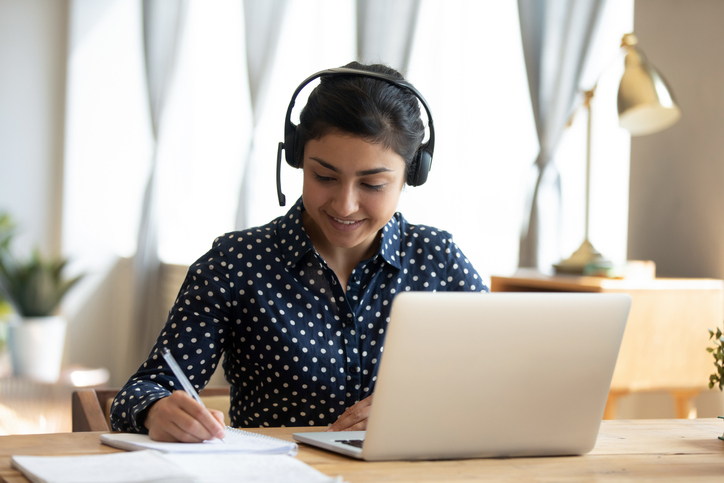 Welcome to Class
It's time to go to class! You've minimized distractions and cleared your schedule. Your book is virtually open, and you're ready to hear the instructor's words of wisdom. How can you be certain to absorb the information you need?
Resource sheet: I spent years rattling off websites and study guide titles to my students, only to watch them frantically scribble URLs in book margins. One morning, knowing I had many good resources to recommend that day, I suggested the participants grab a dedicated piece of paper or open an empty text file to record the upcoming references in a single place. Soon, it was a standard suggestion on the first day of class.
To-do list: Many students are already IT professionals working in the field. They're attending classes to sharpen their skills or learn a particular technology. I often heard these folks say, "I'll have to try that tool when I get back to the office." I suggest using a central document to write down all the tools or practices you want to try when you return to the office.
Participate: This almost goes without saying, but participation is key to learning. Make an effort to answer the instructor's questions and ask your own. Ask if you need help. Put your thoughts forward during class discussions. Be in the game.
After the Class
The learning experience doesn't end when class is over. Consider the following strategies to solidify the classroom experience in your head:
Review your notes: At the end of each day, take a few minutes to review, clarify, and consolidate your notes. You may find questions you want to ask the instructor the next day.
Repeat the labs: Depending on the type of class, you may have the opportunity to repeat labs. Hands-on experience is critical, so carve out time to do the labs over again. In addition, rather than blindly following the instructions, try variations or experiment with additional options.
Rewatch the videos: Online training may be recorded. This is helpful for those who miss a session, and it is a valuable review tool. Was there a topic in the course you found difficult? Rewatch the lecture (and try the corresponding lab again). This feature isn't always available but take advantage of it if it is.
Use exam objectives as a checklist: Step one of preparing for certification exams should be downloading the objectives. After all, these explain what will be on the test. Use the objectives as a study checklist. If you know and understand every objective, you're probably well-prepared for the exam.
Build a home lab: In IT, hands-on experience is crucial. It may be beneficial to build a home lab. While in the "good ole days" this was 2-3 physical computers, today, such labs are easy to construct using virtual machines. Spend time setting up a lab environment so that you can practice and test yourself on the skills you need. Don't forget that the major cloud service providers also offer trial plans to get you started with cloud platforms.
General Advice
Some tips are specific to before, during, and after the training experience, and others are more general. Here are some ideas that don't fit neatly into a particular phase.
Dual monitors: Two monitors can make a huge difference when attending an online class, especially if the courseware is online. Set up the virtual classroom on one screen, the courseware on another, and don't forget to make space for the lab environment.
Study time: Plan to study for certification exams at a consistent time. You probably already know when you're most productive. Try to use that same block of time for exam prep. Schedule the exam for the same time, if possible. Finally, don't study for more than 60 minutes without a 15-minute break.
Study place: Study in a consistent place. This helps keep your mind focused on the task at hand. Pick a quiet place with few distractions.
Putting it all Together
You can get the most out of your training opportunity by following a few basic guidelines. Prepare ahead of time, participate during the session, and study afterward to achieve the greatest success. And prepare a single document to jot down valuable resources, tools, websites, and tasks the instructor or your fellow students may reference.
With these tips in mind, you are ready for a valuable and enjoyable training experience.
Are You Interested in Training for your Team or Organization?
Accelebrate offers live technical IT training for your team of 3 or more attendees at your location or online. Our experienced trainers take a hands-on approach, allowing your team to discover the challenges they will encounter in practice and learn how to overcome these challenges.
Contact us to request pricing and learn how we can customize any of our courses to meet your team's goals, level of experience, and schedule.
---
Written by Damon Garn
---