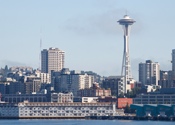 Accelebrate's on-site BusinessObjects training courses are taught at venues throughout the Seattle area and other Washington sites.
SAP® BusinessObjectsTM is a suite of business intelligence (BI) and analysis software from SAP that provides a scalable platform for querying, reporting, and analysis of enterprise data.
Accelebrate's BusinessObjects training classes teach attendees how to use SAP's BusinessObjects tools, including Web Intelligence®, to create reports and analyze data from a Data Warehouse. We also offer training on BusinessObject tools, including the Universe Design Tool (UDT) and the Information Design Tool (IDT) to create and manage universes. Our Administration course teaches attendees how to deploy and manage the SAP BusinessObjects Enterprise 4.x application.