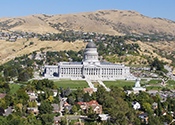 Accelebrate teaches on-site Docker and Kubernetes training classes at client sites throughout the Salt Lake City area and other Utah sites.
Docker is a popular platform for containerization, which allows applications and their dependencies to be easily deployed to multiple environments. Using containerization, application components and infrastructure can be separately containerized and run by a single operating system kernel, without the overhead of spinning up entire, separate virtual machines (which would each have their own operating system instance).
Kubernetes (K8s) orchestrates containers across local, cloud, or hybrid environments. Using Kubernetes, you can automate the deployment, management, and scaling of your containers.
All Docker and Kubernetes courses are hands-on, instructor-led, and can be customized to fit your team's goals and needs.