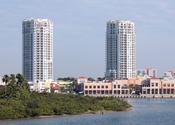 Accelebrate teaches on-site Microsoft 365 Administration and Security training courses at client sites throughout the Tampa area and other Florida sites.
Microsoft 365, Microsoft's cloud-integrated suite of business productivity applications, is enormously capable and brings new demands for IT administration and security staff. This series of Microsoft Official Courses covers the core aspects of planning, configuring, and securing your organization's Microsoft 365 environment.
As a Microsoft Training Services Partner, Accelebrate provides private, enterprise Microsoft 365 courses that give your team real-world, time-efficient training. We can customize any course to focus on only the Microsoft 365 components your team needs. The official Microsoft courses below prepare teams for Microsoft certification, for which every attendee receives a voucher for the corresponding exam. Training can be delivered online or at your site.