Angular Training Overview
This Angular Architecture and Best Practices training course teaches attendees how to build a robust and scalable Angular architecture that is easy to refactor and maintain. Students also learn component communication techniques, state management, code organization, general best practices, performance considerations, and more.
Location and Pricing
Accelebrate courses are taught as private, customized training for groups of 3 or more at your site. In addition, we offer live, private online training for teams who may be in multiple locations or wish to save on travel costs. To receive a customized proposal and price quote for private on-site or online training, please contact us.
In addition, some courses are available as live, online classes for individuals. See a schedule of online courses.
Angular Training Objectives
All students will learn how to:
Organize features and modules
Properly structure components
Facilitate component communication
Manage state in Angular applications
Angular Training Outline
Expand All | Collapse All | Printer-Friendly
Planning the Application Architecture
Architecture Considerations
Architecture Planning Template
The Angular Style Guide
Organizing Features and Modules
Organizing Features and Modules
Core and Shared Modules
Preventing Reimport of Core
Reviewing Module Organization
Custom Libraries
Structuring Components
Container and Presentation Components
Passing State with Input and Output Properties
Change Detection Strategies
ngOnChanges: Reference vs. Value
Cloning Techniques
Component Inheritance
Component Communication
Component Communication Techniques
RxJS Subjects
Creating an Event Bus Service
Creating an Observable Service
Unsubscribing from Observables
State Management
The Need for State Management
State Management Options
Using Services
Using NgRx
Using ngrx-data
Using Observable Store
Reviewing State Management Options
Additional Considerations
Interfaces, Classes, and Enums
Functions versus Pipes
Adding a Memo Decorator
HttpClient and RxJS Operators
Using Interceptors
Here's a sample Angular lesson demonstrating you how to use Reactive Forms and RxJS to code a Typeahead Control. You may also download the code and demos shown in the video.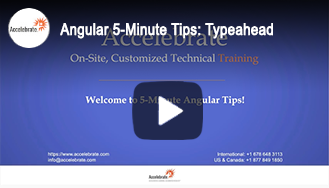 See other Angular topics in our video series, 5-minute Angular Tips.

---
Related Topics