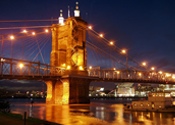 Accelebrate teaches on-site WebAssembly training courses at client sites throughout the Cincinnati area and other Ohio venues.
Our private, live WebAssembly training teaches students how to build client-side web applications with native performance, using diverse languages. Prominent among these is Blazor a new Microsoft .NET Core-based implementation of WebAssembly that allows client-side web applications to be written in C#.
Let us work with you to customize the perfect WebAssembly course for your team of 3 or more attendees. All classes are hands-on, instructor-led, and may be delivered online or at your site.