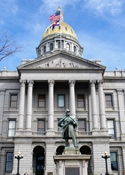 Accelebrate's on-site Ansible training courses are taught at locations throughout the Denver area and other Colorado venues.
Ansible is an easy-to-use, powerful automation platform that can help you automate IT tasks without having any programming knowledge.
Accelebrate's Red Hat Ansible training courses teach attendees the Ansible skills needed to automate repetitive tasks, reduce the risk of human error, and improve the consistency of their IT environment. Students learn how to build Ansible playbooks, construct modules, configure roles, and more. In addition, participants learn how to use Ansible Tower/AWX. AWX, a free container-based version of the Tower, is a web console for managing automation tasks.
All Ansible courses are hands-on and instructor-led and may be customized to meet your team's needs and goals.