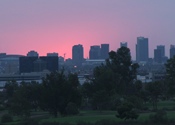 Accelebrate's on-site Ansible training courses are taught at locations throughout the Phoenix area and other Arizona venues.
Ansible is a powerful open-source engine for automating configuration management, software provisioning, and deploying applications. Accelebrate's Ansible training courses teach attendees how to implement Ansible. Attendees build playbooks, construct modules, configure roles, and more. In addition, attendees learn how to use Ansible Tower, which provides a highly usable web console for managing automation tasks.
All Ansible classes are hands-on, instructor-led, and may be customized to meet your team's needs and goals.