Do you get the feeling of motion sickness at the headline "New Google Algorithm Change?" Maybe you feel like you are in the side car of a motorcycle, just along for the ride with no control of your search standings? I felt so strongly about this, I created a meme for it. I really do not have that much time on my hands.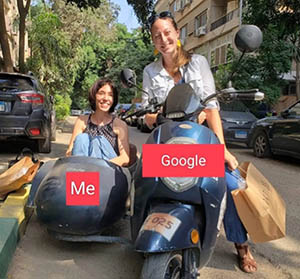 Side Street in Maadi, Cairo, Egypt, September 2022. Red labels are for dramatic effect.

We used to feel this way, but now have a strategy for dealing with the uncertainty that comes with algorithm changes that seems to work for our Accelebrate website.
This article takes you through some of the tools and strategies we have used for finding and fixing possible Search Engine Optimization (SEO) issues to stay ahead of these Google shakeups. There is no one thing you can do, but several consistent practices that can make the difference. This article also discusses what to do if your site's traffic declines significantly after a Google algorithm update. Read on for some SEO tactics that have worked for us so far.
Use Free and Paid SEO Tools
Here are some of our favorite free tools that we regularly use to gather data and improve our site's SEO:
Google Trends: Type in any keyword or phrase to see the search volume over time for any country or worldwide. Then you can tweak your content to include the current popular search terms in your relevant pages.
Google Alerts: Set this up to receive an email for up-to-the-minute information about any search term. For example, you can set up an alert for "Google Algorithm Change." When that term is trending, you receive an email with links to pertinent articles. Boom! You're in the know and can start assessing any impact right away.
Google Analytics and the Google Search Console: Quickly determine if there has been any disruption in your traffic and when exactly it occurred. Did the traffic drop align with an algorithm change? Or did it occur around the same time you made a site-wide change?
SEMRush, a paid tool, has been a vital part of our SEO insights. SEMRush allows you to check the visibility of tracked keywords to see how you rank for any given keyword compared to your competitors. You can also perform advanced keyword research here to update your content with relevant keywords. And any dated references can get the old 23 skidoo.

SEMRush's SEO Dashboard also alerts you if there are any tagging errors on your site that need to be fixed (404 errors, duplicate meta info, missing meta info, broken images, etc.) and gives sites an overall health score based on those signals.  I have it set to receive an email each week to alert me about any issues so I can fix them immediately.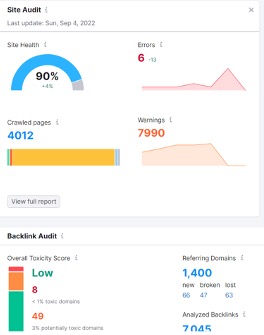 SEMRush's SEO Dashboard to find and fix issues.
In addition, with Backlink Audit, you can see if any links pointing to your site are toxic and then disavow them using the Google Disavow tool. If you have never used this free tool, please read the guidelines before submitting a disavow list to Google.
Be Consistent and Keep it Fresh
This is a marathon, not a sprint. Make small updates every day or a few times a week. It is also a good idea to spread out any larger projects; if you make big changes to several elements on your site at the same time, it can be hard to know which changes were the most effective.
Weeding out old, obsolete content can also be helpful. We got rid of some older technologies that we had not taught in six or more years, pruned some outdated articles, etc., and saw an increase in our overall search visibility right away. But how do you know which pages in your site are duds? Enter, Google Analytics. Using this tool, we found that we had some non-essential pages with very low traffic, zero conversions, and a 100% bounce rate over the last few years. We took those pages down.
To find the bounce rate for each page in your site in Google Analytics, go to Acquisition > Channels. Then click on Organic Search in the table and choose Landing Page for the primary dimension.  If you click on Bounce Rate in the top of the table, the pages in your site will be ranked by bounce rate, highest to lowest over any period time you like. If you have pages that have a 100% bounce rate, check the traffic and if you really need to have that page on the site.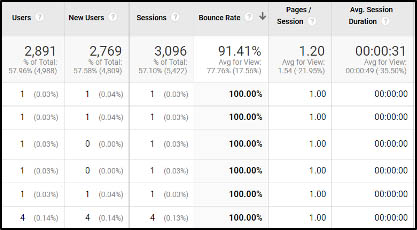 Google Analytics 4 (GA4) will be replacing Google Analytics Universal, and the current version will no longer be available after July 2023. There are a lot of changes and GA4 training may be necessary for your team. If you missed Accelebrate's free, live GA4 webinar, you can still view the recording.
We have stayed on top of modern, popular technologies and trends and are constantly adding new content to our site. Each new page we create contains relevant keywords that have been researched with Google Trends and SEMRush, well-written copy (we often use Grammarly for proof reading), and relevant, useful content written by instructors and/or experts. In addition, we make sure we are using tagging best practices such as:
Having unique meta page titles and meta descriptions
Making sure the page title does not match the H1
Only having one H1 on each page
Incorporating relevant but varied keywords into the url, meta title, meta description, H1, and content. These elements should not all match exactly.
Ensuring the meta description is not an exact copy of the text on the page
Don't Forget Google's Page Experience
Page experience is not concerned with content; it is only measuring the experience of a user interacting with a web page. Does the page take a long time to load? Are the page elements shifting around as it is loading? These experience signals are important but often overlooked. Once we fixed our Page Experience issues, our search engine visibility went up.
In the Google Search Console, go to Page Experience to view your Core Web Vitals, Mobile Usability and HTTPs Usage. For more information on Google's page experience elements, check out this guide.
Ok fine, you don't want to read the entire guide from Google. Here's a quick overview on what makes up Google's Page Experience:
Core Web Vitals: looks at the speed and responsiveness of the page loading experience. This includes if the layout shifts when the page is loading and how quickly the page loads.
Mobile Usability: looks at if the links are too close together to easily be clicked on, load speed, and more.
HTTPS Usage: You best be using HTTPS and HSTS! HSTS stands for HTTP Strict Transport Security and means that the server will tell browsers that they should only connect via HTTPS.
Create High Quality Content
I know. Everyone says this, but how do you do it? This latest Google Algorithm change, The Helpful Content Update, addresses this very issue. This latest change aims to de-rank sites that create content for SEO purposes rather than provide users with valuable information. Sites that use AI-generated content have suffered from this update. Some takeaways from what Google is looking for in a website's content:
First-hand experience from an authority
One topic at a time with a focus
A truly helpful answer to a common question
Relevant, useful photos, diagrams, videos, etc., where appropriate
What Should You Do if Your Traffic Declines After a Google Algorithm Change?
First, don't panic. Unless you're doing something shady, such as Blackhat SEO (buying spammy links from a link farm, automating content, keyword stuffing, etc.), you can get your site's rankings back. In fact, they may bounce back after a few days while Google is figuring your site out. Just in case, you should still:
Check your website's overall traffic in Google Analytics. Is the traffic still in the normal range or has there been a dramatic drop?

If you find a significant drop, you can use your Google Search Console and see if you have an alert about any possible manual actions against your site. On the left-hand side, choose Security & Manual Actions > Manual Actions. If you are doing anything against Google's guidelines, you will be alerted here, and you should fix those immediately.

Check the Google Search Console to get a quick overall picture of how your traffic has changed over time. In the Google Search Console go to Search Results on the lefthand navigation to check your site's:

Total clicks
Total impressions
Average CTR
Average position

Check your individual keywords. You can use a tool like SEMRush to track your keywords to see if there has been a decline your domain's position in search over time. For example, if your key phrase "Agile Training" was in position 9 before the algorithm change, and now it is in position 30, you can start looking at those pages in your site for any possible issues. Maybe the pages take too long to load, or the content needs to be updated, or there are tagging errors.


SEMRush Position Tracker: Average position for "Agile Training" over time and as compared a few of our competitors. We are the blue line.
If you find you have a significant overall drop in search position and traffic, review your content, marketing, and social media strategies.
Conclusion
One-and-done changes will not work; it is a constant process of weeding out the old, optimizing the new, and keeping on top of trends and site analytics. Google's algorithm changes will keep coming. The Penguin update of 2012 aimed to de-rank sites that tried to manipulate their rankings by buying hundreds of bogus backlinks. The Hummingbird update of 2013 considered context and meaning over individual keywords, demoting sites that engaged in keyword stuffing. As with every change, Google wants to give the user the best search experience possible. After all, if Google wants people to use their service for search, they must give them useful and relevant search results. We can either go along for the ride blindly without any brakes or GPS, or we can monitor changes, respond to issues that come up, and take steps to mitigate problems before crashing.
Search visibility in SEMRush, and in other SEO tools like
Moz
, is the percentage of estimated clicks your site receives based on organic rankings for the keywords you are tracking.
---
Written by Anne Fernandez
---