Everyone loves a good action/drama, but it did not really play out that way when Google, after much anticipation, rolled out its new mobile-friendly algorithm on April 21.  The world as we know it did not end and one week later and things continue to be relatively quiet.
We all know how annoying it is to have to resize, pan, or squint to read text on a mobile phone if you are viewing a site that was meant to be rendered on a desktop monitor. For the last few months, Google has been warning websites that are not mobile friendly to make changes to ensure that users have a seamless experience when viewing their site on a mobile device. With its new mobile algorithm, Google has made it its mission to weed out these sub-par mobile sites by penalizing their search rankings. For more detailed information on the new mobile algorithm, please read my previous post, Lessons in SEO: Why You Should Have a Mobile-Friendly Website.
In this blog article, I will discuss what we now know about Google's mobile algorithm, how you can check your site's mobile-friendliness score, and what effect it has been having on websites so far.
April 21, Mobilegeddon Hits
Paranoia reached fever pitch the week before Mobilegeddon was to hit, and this type of image was popping up on all the SEO blogs: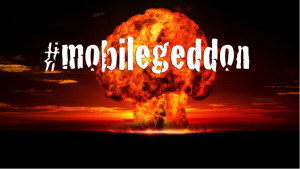 http://www.searchengineland.com
Oh, it was Christmas for SEO consultants!
Or, was this the Y2K bug all over again?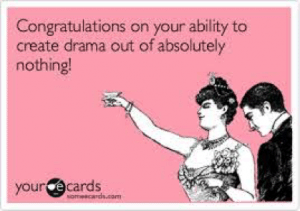 Only time will tell, but so far the blogosphere is not blowing up with reports of tanking mobile website search results. However, there have been some reported winners and losers, posted by Searchmetrics. Among some of the sites that lost mobile ground due to the algorithm were Walmart, Reddit, NBC Sports, and Upworthy. Some sites that benefited from the algorithm were Newsweek, Washington Times, and AllPosters.com. The list is not definitive, though, as the algorithm is still rolling out.
Here are some facts about the mobile-friendly algorithm that have been confirmed by the Big G (Google, of course):
The algorithm began to take effect in the early morning of April 21 and it will continue to roll out over the next few weeks.
Only search results on mobile devices will be affected. There was some speculation that desktop and tablet searches would also be affected, but that is not the case.
It affects searches on mobile devices across all languages and locations.
It only applies to individual pages, not entire websites. So if you only have one page that is mobile friendly, only that page will do well in mobile search.
Google may take a week or more to crawl all the pages in a site and categorize them as 'mobile-friendly' or 'not-mobile friendly.'  Not sure if your website is compliant?  Test it out in Google's handy-dandy mobile-friendly website tester. It's fun and it's free.
If your mobile site does not pass the test, you will get a message saying that your site is not mobile-friendly. The items that should be fixed will appear on the left in red.  Fun Fact – http://www.irs.gov does not have a mobile version.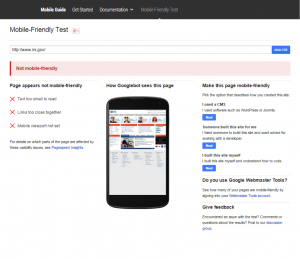 If your site is mobile friendly, the message simply says "Awesome!  This page is mobile-Friendly."  However, you do not get any other information, such as your mobile-friendly score or what you could do to make your site even more mobile-friendly.
Enter, the Bulk Google Mobile-Friendly Checker with Score tool.  This site allows you to test many pages at once; just enter all of the URLs you want to test separated by a line. Not only will you see a grade for each page, you will see the issues related to the score. Google grades your mobile pages most heavily in 5 key places: viewport configuration, font legibility, use of incompatible plugins, content to viewport, and size and proximity of links. 0.0 is the best score you can get for these areas.
Let's break those conditions down. Here are the results for the mobile site for Barnes & Noble with an explanation in red next to each item.
Status: OK (The mobile site was found)
Google's Mobile Friendly Score (overall): 97 (Score or percent. They get an A+)
Mobile Friendly?: Yes (This will either say Yes or No)
Viewport Configuration: 0.0 (Identifies if your page does not specify a viewport for adaptability to different devices)
Font Legibility: 0.0 (Detects if the font is too small to read)
Use of Incompatible Plugins: 0.0 (Looks to see if the site uses a plugin that mobile devices cannot utilize, such as Flash)
Content to Viewport: 0.0 (Discovers if the page content does not fit horizontally within the specified viewport size, forcing users to rotate the phone to see all the content)
Size and Proximity of Links: 2.041587901701323 (Detects if certain items on the screen such as buttons, links, or form fields, are too small or too close together for a user to easily tap them on a touchscreen.)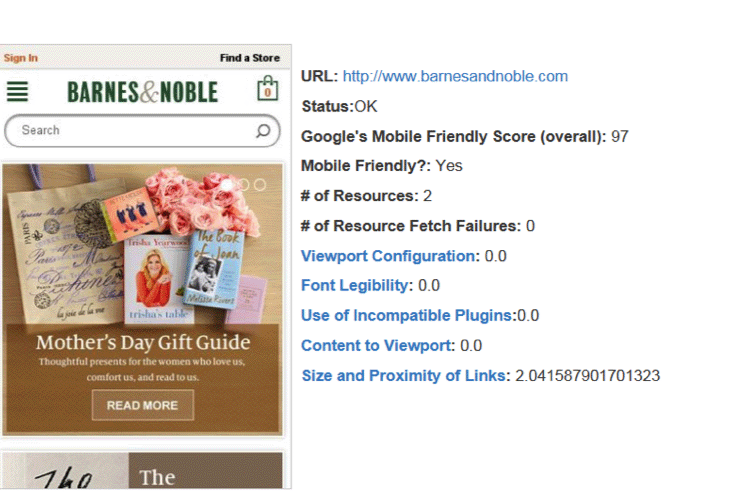 As mentioned, 0.0 is the best score a site can have in all of these areas except for the overall score.  The highest overall score is 100. Amazon.com has a score of 100 and 0.0 for everything else. Barnes and Noble is close, the only minor issue they have is a score of 2.04 for 'size and proximity of links.'
I tested dozens of web pages using this tool, and the biggest issue affecting a site's overall score seemed to be the size and proximity of links test. The sites that had a lower number for this particular area almost always had an overall higher score, even if they had other issues.
I also tested Accelebrate's home page on the Bulk Google Mobile-Friendly checker.  Notice that all key areas score a 0.0 except for Size and Proximity of Links and our overall mobile score is 87.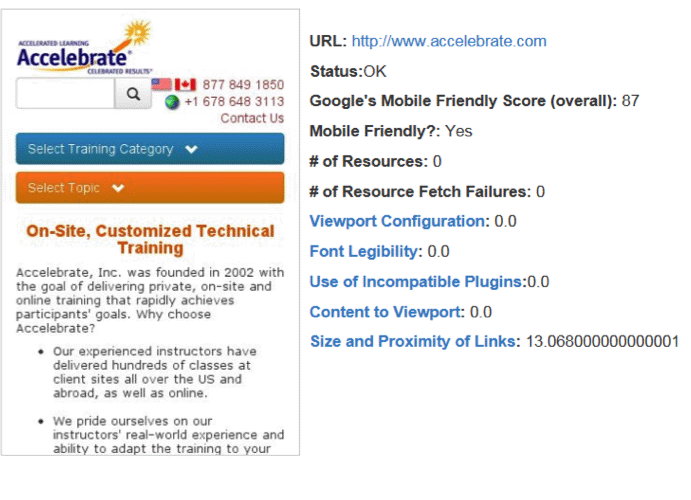 NBC Sports has a view port configuratation and content to viewport score of 3.0, but no problems with their links and still scored a 93.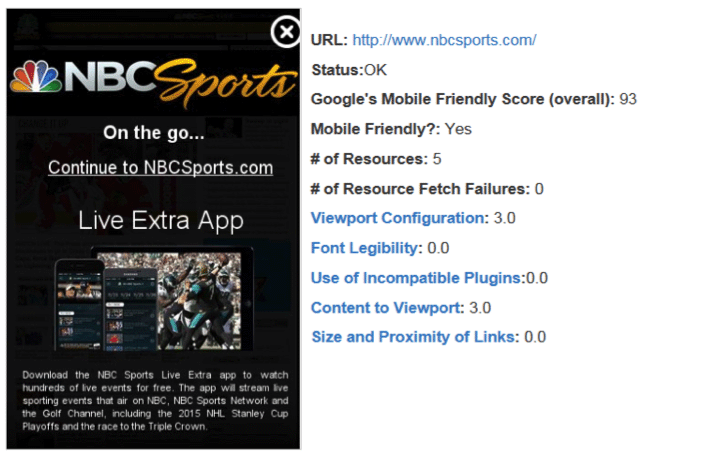 However, for sites that were not labeled as mobile-friendly, the size and proximity of links did not seem to matter as much. AP's mobile version had many issues and scored 55, while Reddit scored a 57.  AP and Reddit had link scores of 12 and 29 respectively.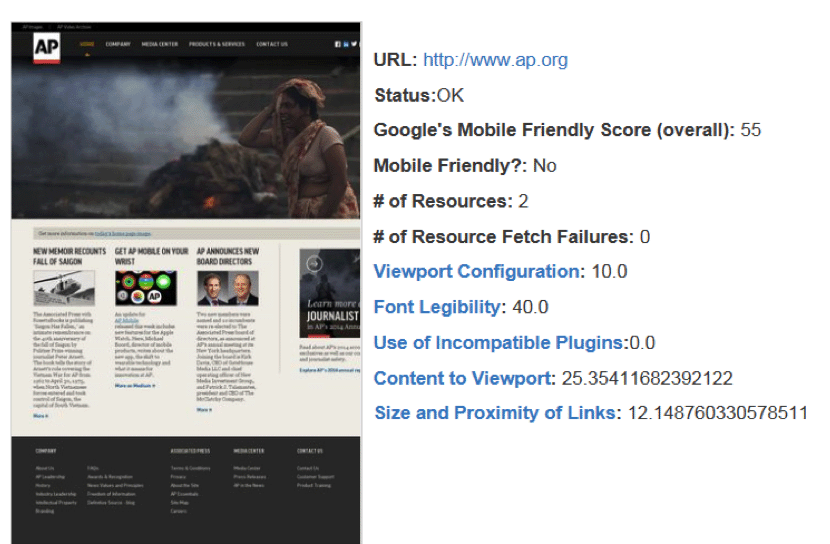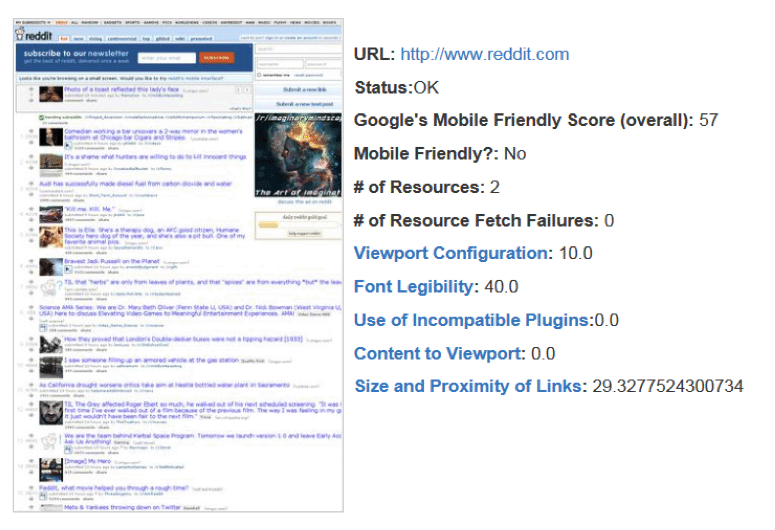 It seems as though if a site is labeled as mobile-friendly already, a link score as close to 0.0 as possible can make a big difference in the overall score. If the site is not mobile friendly anyway, the link score is not as important.
Note:  the Bulk Checker does not always work well.  I have gotten many error messages or timeouts. If you prefer, you can use the Chrome add-on for checking web pages for mobile-friendliness.
Should You Use Responsive Web Design (RWD) to Make Your Site Mobile-Friendly?
Google still insists that it does not give a stronger mobile-friendly ranking to pages that use RWD (pages that use the same URL but use HTML5 and CSS3 to render the information differently depending on what device the website is being viewed on) versus hosting a completely separate mobile site (www for desktop and m.example.com for mobile).
However, Accelebrate uses RWD because it is just more efficient to have all of the data in one place, and having one URL makes it easier for Google to crawl our site.
Mobilegeddon or Meh-blegeddon?
I cannot help but wonder if Mobilegeddon will be like the snow storm that was supposed to cripple NYC this winter but never quite materialized.
Speaking of weather, the MozCast, or the weather report for SEO nerds, is showing very little fluctuation in overall ranking changes since April 21. Every 24 hours, Moz tracks a set of 1,000 keywords and grabs the top 10 Google organic results. Each day, it takes those top 10 and compares it to the previous day's top 10 to calculate a rate of change, which usually intensifies whenever Google rolls out a new algorithm or updates an existing one. According to the MozCast, there have been no significant changes over the last week regarding key word rankings in mobile search.
I would not get complacent though. The algorithm is technically still rolling out, and will be over the next few days or weeks. The ranking changes could still come.
There are also implications for this algorithm change other than ranking changes.  One is that Google will now label your site 'mobile-friendly' in the mobile SERPs for everyone to see.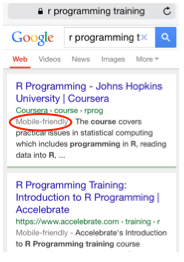 If your site in not mobile friendly, Google does not have the label "Not Mobile-friendly" or "Loser" with  an "L" sign, but that might be coming.
Can you imagine?

For now, it just does not say anything if the site is not mobile-friendly.
Also, Google announced it will change how URLs are displayed in mobile search results. Instead of displaying the URL, Google will just display the name of the site and not the domain name.  In the image above, you can see the effect has already taken place for Coursera, but not yet for Accelebrate.  Because our site is mobile-friendly, I would expect that we will see that change soon.
It will be interesting to see what (if any) ranking changes will be reported over the next week, and just a side note to bloggers: adding -geddon to the end of anything is a bit hyperbolic, unless it really is Armageddon. Then it is ok.
---
Written by Anne Fernandez
---