Google estimates that 50 percent of all Google searches are now done on a mobile device. Surely, that is no surprise to you. Everywhere people are attached to their smartphones – as if surgically fused to their hands – surfing the web, reading the news, shopping, and looking at cat videos. Google, thus, wants to make sure users will have the best mobile experience possible and, to that end, will soon unveil a new algorithm that will negatively affect Google rankings in mobile search for sites that are not mobile-friendly.
In this blog article, I will discuss the recent warnings Google has issued to webmasters, how to check your mobile website for usability issues, when to expect the next algorithm to roll out, and how to optimize your mobile website to avoid being penalized in the search engine results on mobile devices.
Google's Initial Mobile Website Warning
In January 2015, Google sent out mass warnings to webmasters whose sites were not mobile- friendly. The subject line of the email was "fix mobile usability issues found on…" The email explained that the site had serious mobile usability errors and, therefore, would be "displayed and ranked appropriately for smartphone users."
If I had a website that relied on getting traffic to my site for business, I would be shocked and worried if I received and email directly from Google telling me my mobile site stunk.
Here is the content of Google's email:
It was nice of Google to give fair and thorough warnings, though. These emails went out in January, giving webmasters time to fix any issues outlined in the message. Google also provided a testing application where webmasters could see if their sites passed the mobile-friendly test for Google. If you enter your mobile site URL and you see this, your site is fine:
Awesome! This page is mobile-friendly.
Otherwise, the tool will list the usability issues so that you can fix them.
You can also look in Google Webmaster Tools for help. Go to the menu on the left and choose Search Traffic > Mobile Usability to see a list of issues.
Because Google not only sent out warnings but also gave webmasters the tools to find and fix the usability issues, it seemed as if Google would soon go beyond The Great Broken Mobile Site Penalty of 2013, and it was widely speculated that there would be a new 'serious' algorithm coming up with regards to mobile websites.
How long do we have? When will it come? April 21, 2015, apparently.
Google's New Mobile Site Algorithm
The new mobile algorithm and the release date are official. From the Google Webmaster Central Blog:
"Users should get the most relevant and timely results, no matter if the information lives on mobile-friendly web pages or apps."
"Starting April 21, we will be expanding our use of mobile-friendliness as a ranking signal. This change will affect mobile searches in all languages worldwide and will have a significant impact in our search results. Consequently, users will find it easier to get relevant, high quality search results that are optimized for their devices."
This change will have an even greater impact on mobile search results than the Google algorithms named Penguin and Panda. Google has not revealed the name for this new algorithm
With this new algorithm, Google will not only label your site as mobile-friendly or non-mobile-friendly but also use that label to determine how your site would rank in mobile search results. The message is loud and clear: if your site is not mobile-friendly, you will need to fix the issues now, otherwise all of your mobile traffic is at huge risk.
How to Optimize Your Website for Mobile Devices
Google prefers websites that use responsive web design (RWD), i.e., sites that use HTML5, JavaScript, and CSS3, to change how the page is rendered on different devices. With RWD, users are able to read and navigate your site across a wide range of devices from desktop monitors to mobile phones without having to resize the screen manually. The images, text, and navigation automatically adjust to the screen size.
Our own Accelebrate site uses RWD, with Bootstrap facilitating the responsive web design. You can see how the layout automatically changes based on the screen size. Our content is all in one place; only the display changes. Here is the same URL (/training/responsive-web-design) on the
Desktop: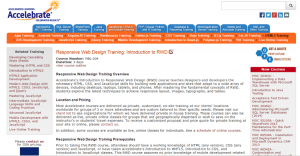 Tablet:
Mobile Phone: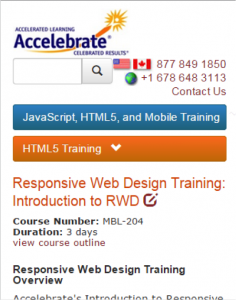 One advantage of responsive web design is that all of your content is on a single URL, making it easier for your users to interact with, share, and link to your pages. It also makes it easy for Google to index your content if it is all in one place. With RWD, a single Googlebot crawls your page once, rather than different Googlebots crawling your sites multiple times to retrieve different versions of the same content.
However, Google understands that it may not be possible or appropriate to use responsive web design and supports having websites display equivalent content using device-specific HTML. These pages can be displayed on different URLs, such m.example.com for the mobile site. While this solution is supported by Google, it is not as desirable as using RWD for the reasons stated above.
SEO Best Practices for your Mobile Site
Make sure your pages load quickly. This may be challenging due to connection or hardware issues, but there are actions you can take to speed things up. Reducing the weight of image files, minimizing code, using browser caching, and reducing redirects can be helpful.
Design your navigation for fat fingers. If your buttons are too small, or in the path of a finger that is trying to scroll down, the user could be frustrated by too many accidental clicks, leading to a high bounce rate. Google will see that your site has a high bounce rate and wonder what is wrong with your website that people get on and then immediately leave. This can definitely hurt your SEO efforts.
Design your forms to be short and sweet. If you are going to have your user provide information via a form, make the form as short and as clear as possible.
Do not block JavaScript, CSS, or image files. The Smartphone GoogleBot wants to be able to see and categorize this content. If you have it there for users, Google wants to know about it. Also, these elements help Google to understand if you have a responsive site or use a different solution.
Do not use Flash or pop-ups. Flash may not be available on your user's phone or tablet, so if you want to create special effects, use HTML5 instead. Using pop-ups might lead to a high bounce rate if your user constantly has to close windows.
When in doubt about your mobile site, ask yourself:
Does it load in less than three seconds?
Is the content easy to read?
Is the site easy to navigate?
Can you easily find the call to action, i.e., the action you should take on the site, such as making a purchase or filling out a form?
Is this a site that you would actually want to stay on even it was not your site?
Webmasters cannot avoid the fact that mobile internet traffic is overtaking desktop traffic and will soon surpass it. Making your website mobile-friendly should be a high priority for 2015.
---
Author: Anne Fernandez, one of Accelebrate's SEO team members
---
Written by Anne Fernandez
---