By now everyone has heard about RPA, Robotic Process Automation. It refers to the use of software robots that mimic the tasks usually performed by humans. RPA is used for automating rule-based processes. By automating repetitive tasks, companies can save both time and money while simultaneously reducing the risk of human error. Industry experts expect that clerical work will be automated in the same way that industrial robotics automate production on the factory floor. Even though RPA is a relatively new discipline, the technologies themselves are mature.
To understand the potential value of RPA, we must correct common misguided information regarding how RPA functions, what its impact is on stakeholders, how the technology is implemented, and how it works.
Here we go! Below you can find the most common myths about RPA along with the truths that debunk them.
#1 – Robots will replace humans / robots will take human jobs
People will always have an invaluable role in the workspace especially when it comes to performing collaborative, interactive, and creative work. If the task in question is described as repetitive or mundane and resides in an electronic space, then it can be automated with RPA. But RPA is not necessarily suitable for tasks that require independent thinking and business decisions. Thanks to RPA, you can free up staff and let them focus their time and skill on the value-added work. Some human resources will always be necessary to resolve issues, exceptions, develop and maintain the technology.
McKinsey estimates that less than 5% of all occupations can be automated entirely based on currently demonstrable technologies. A further 60% of jobs have at least 30% of constituent activities that can be automated. A new McKinsey Global Institute report finds realizing automation's full potential requires people and technology to work hand in hand.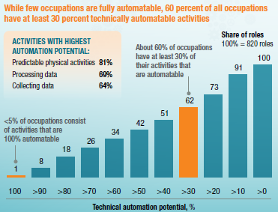 Source: https://www.mckinsey.com/featured-insights/digital-disruption/harnessing-automation-for-a-future-that-works
#2 – RPA Robots are a physical technology
Robot – a metal figure with a monotone voice that can perform physical actions based on the given commands. This is the common understanding.
Robots in RPA are software robots (or just simply software) made up of algorithms that allow it to conduct steps as a virtual worker that performs routine, mundane and repetitive tasks.
Lately you can see the shift towards Intelligent Automation, IA. Businesses wish to move quickly up the RPA ladder with digital triggers or self-service, via Machine Learning with prescriptive analytics and decision engines to AI with deductive analytics.
#3 – RPA Robots are 100% accurate and never fail
Each robot is only as accurate as the RPA developer programs it to be. But every business process has exceptions and/or may have small little nuances that cannot be programmed accurately.
The RPA robots do not have any cognitive capabilities themselves. They will simply execute the set of instructions with which they have been preconfigured. If there is a bad task put in place, then that bad task will be automated. The robot lacks the ability to recognize such mistakes because it operates on code without common sense. So, if the robots have been incorrectly configured, then errors will be inevitable. For this reason, it is important to apply a proper testing protocol and sign off each business process assigned to the robots for execution before they are performed "live" to eliminate all potential mistakes. Equally, any work delivered by bots should always be properly scheduled, monitored, controlled, and checked for any exceptions by humans.
#4 – RPA is expensive / RPA is not in my budget
It is true that implementation of an RPA program requires investment. Typically, upfront investment includes (but is not limited to) license fees, development costs (including 3rd party support), hosting, infrastructure, RPA team onboarding, setting up an RPA organization (CoE), etc. Undoubtedly, some of these costs are sunk costs and cannot be avoided.
However, even if your organization is sensitive to costs, there is a way to run a successful "at budget" RPA program. Here are some suggestions:
Start small and increase scope gradually, starting with small and simple processes minimizes development costs and leads to automating process(es) quickly. It does not require a high number of licenses / robots and pays quick benefits. Also, event automation of one or two business processes can already generate savings which can offset part of the initial investment. Equally, it helps to "establish and manifest" a success story across the entire organization to get buy-in for large scale deployment in the future.
Establish "in-house" capabilities. Developing in-house capabilities and / or setting up a Center of Excellence might help in becoming self-sustaining. Also, it can enable your RPA organization to generate revenue by developing and deploying automation within other parts of your organization.
Maintain robust automation pipeline & efficient license utilization. Last but not least, having a clear vision of future automation scope and "keeping" your robots busy by smartly utilizing them will help keep costs under control.
It is clear that one of the primary benefits of RPA is cost reduction, but this is not the only benefit. RPA may improve the entire process in different aspects – speed (faster processing), quality (reduction of the risk of human errors), and cost (moving talents to more value-added tasks). On top of this, customer satisfaction is improved as employees are not 'bored' with repetitive tasks.
Ultimately, your RPA program does not have to be expensive and should be enabling businesses to improve on all areas of production whilst reducing costs.
#5 – RPA developers will require special programming skills
Fundamentally, RPA development can be simple, with easy-to-use software (like Blue Prism!) that ay end users or business experts withoutprogramming skills can use to design and develop their own automated solutions. That is all true, but…
RPA is not only about automating basic processes. Most processes are complex, with a number of interdependencies and inputs from different systems and tools. The solution that is designed needs to be robust and must be able to handle exceptions gracefully. RPA is much more powerful and complicated than a simple macro script.
IT knowledge / programming skills can help shorten the learning curve, but process knowledge is more important than IT knowledge. Based on our experience, knowledge of business rules is more important.
To maximize the benefit of RPA within your organization, you might want to identify suitable RPA developer candidates from the business with expertise in business processes and train them to become skilled RPA developers.
#6 – Robots do not need to be managed; they handle it all
RPA, as a long-range capability, empowers organizations to increase business value and grow strategically. To achieve this goal, it is essential to embed RPA effectively and deeply into the organization. The entire Robotic Operating Model (ROM) should be at the core of any RPA organization.
Each RPA organization should have a clear governance model with a set of defined roles and responsibilities that dictate who is accountable for implementing and managing the automation.
Robust reporting functions help the organization not only manage the robots, but also display data from the process to assist in further analysis and improvements. Robots can work 24/7, but this needs to be backed up by a well-structured RPA team that controls the exception process and ensures the scheduling is updated as per the business's needs.
Also, as we have mentioned in Myth #3, each robot is only as accurate as the RPA developer programs it to be, and thus needs to be closely managed, controlled, and monitored.

In addition to customized Blue Prism group training, Accelebrate also offers open enrollment online Blue Prism courses for individuals.
---
Written by Jan Rapala
---