Data visualization is becoming increasingly important in the business world as the amount of information we work with grows. If you are considering introducing a data visualization tool to help you with business analytics and empower you to make data-driven decisions, there are 5 top options.
This article will explore why and how data visualization tools are used and walk you through our top 5 software choices. Read on!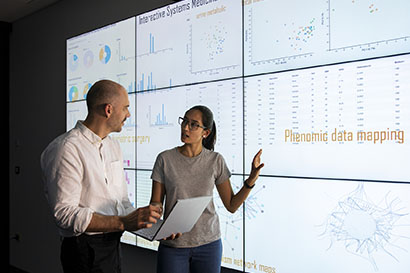 What Are Data Visualization Tools?
Data visualization tools are a powerful way to summarize and analyze your data. They allow you to quickly make sense of large amounts of information, spot trends and patterns, and explore new ways to analyze findings.
Most data visualization software allow users to create graphs, interactive charts, and maps in a matter of seconds, saving hours of manual work while providing the ability to create interactive visualizations of large datasets.
Who Uses Data Visualization?
Data visualization is the process of representing data in a graphical format. Pie charts, bar charts, graphs, color-coded maps, and other visual representations of data allow people to interpret and understand complex information more easily. Data visualization is used in various fields by organizations and individuals to compile reports, gain a top-down overview of large datasets, and interpret information.
In business, data visualization plays a considerable role in internal analysis. It tracks sales figures and website interactions, analyzes customer behavior, and predicts future trends.
In finance, data visualization can be used to understand stock prices, identify investment opportunities, and assess risks.
Data visualization can examine complex datasets for potential correlations and causations in scientific and medical research.
Ultimately, organizations and individuals use data visualization to analyze and visually communicate information to others.
Why Is Data Visualization Important?
The importance of data visualization stems from the fact that the human brain is highly efficient at processing visual information. Analyzing and presenting or reporting on large datasets through visual representation allows data scientists, project managers, and anyone working with raw information to interpret data, gain insights, and build reports with far less effort.
For these reasons, many companies are hiring or training data scientists specializing in data visualization.
Data Visualization Tools Comparison
There are more than a few data visualization tools available on the market, so if you are looking to introduce one in your organization or make a switch, there are multiple factors to consider.
Pricing, integration options, the datasets with which you are operating, and user-friendliness, to name a few.
Below, we'll walk you through our top 5 choices and provide a short description for each of them:
1. Tableau
Owned by Salesforce,Tableau has been one of the most popular data visualization tools for some time. Combining ease of use with remarkable capabilities and performance, it sits at the top of our list for a good reason.
Thanks to its features and integration with all major databases (as well as a high price tag), it is one of the most widely used tools for enterprise businesses, boasting a large and helpful community.
Although the interface is user-friendly, most teams require Tableau training to learn the ropes and make the most of this powerful tool.
For free Tableau resources from Accelebrate, please see:
In addition, we have a recording of our free Tableau webinar, Tableau Prep: Get Your Data Cleaned and Prepared for Maximum Benefit in Tableau.
2. Microsoft Power BI
Microsoft Power BI is another option you should consider when you're planning on integrating a data visualization tool into your business processes.
Its pricing is especially reasonable compared to other data visualization tools. In addition, if your organization is already using Microsoft 365, you will benefit from its tight integration with other products in the suite (and may already have licenses for Power BI included in your Microsoft 365 subscription).
Microsoft Power BI is also quick to learn. You can create beautiful visualizations even if you are not a data analyst or developer. The user interface is intuitive, with plenty of online resources available if you need help getting started.
Finally, if you're already using Excel for your data analysis, you will find it easy to start with Power BI. You can use all your existing Excel knowledge and skills, including Power Query, which makes the transition smoother. However, more advanced Power BI features may need some time to master.
Overall, Microsoft Power BI is an excellent choice for data visualization. It's affordable, quick to learn, and receives monthly updates.
For free Power BI resources from Accelebrate, please see:
In addition, we have recordings of our free Power BI webinars, Power BI Overview and Using Python with Power BI.
3. Qlik Sense
Qlik Sense is another data visualization and business intelligence tool favored by large companies.
It provides users with powerful drag-and-drop visualizations for quick and reliable data analysis. With intelligent search functionality, users can easily find the information they need. Additionally, Qlik Sense offers access to real-time analytics anytime, anywhere.
Data storytelling allows users to combine reporting, presentation, and exploratory analysis to emphasize insights and direct your audience's focus. Finally, self-service simplicity and a shared object library make it easy for users to start and progress with their data projects.
When you add enterprise-level security and scalability to the mix, Qlik Sense becomes an attractive option for businesses of all sizes.
QlikView vs. Qlik Sense
QlikView is one of the top data visualization platforms and has been around for longer than Qlik Sense. While it is still widely used, many companies are migrating to Qlik Sense due to its newer features and functionality.
One of the main differences between the two tools is that QlikView is designed for desktop use while Qlik Sense is designed for both desktop and mobile use. Additionally, Qlik Sense offers more advanced features such as smart search, drag-and-drop visualizations, and self-service data discovery.
The best tool for your organization will depend on your specific needs and preferences.
If you are considering migrating to Qlik Sense, provide your employees with Qlik Sense training to make the most of the tool's capabilities.
4. Zoho Analytics
Zoho Analytics is a cloud-based business intelligence and analytics platform that enables users to transform their data into actionable insights. It offers a free plan with basic functionality and several paid options to suit different types of users.
Like other tools on this list, Zoho Analytics integrates with a wide range of data sources, making it easy to collect and analyze all your data in one place. It also offers a variety of data visualization options so you can present your data in the most effective way possible.
Another advantage of using Zoho Analytics is that it offers both public and private dashboards. You can share your data with colleagues, clients, or partners or keep it confidential if you prefer.
Finally, Zoho Analytics has a self-service BI feature that allows users to create their own reports and visualizations without needing any technical expertise. AI with machine learning can provide intelligent suggestions on what to do next based on previous actions taken by the user.
Overall, Zoho Analytics is a powerful business intelligence and analytics platform with many features and integrations. It's easy to use and can be tailored to suit the specific needs of your business.
However, some users have reported issues with updates being rolled out without sufficient notice or training to get up to speed with the changes. Additionally, the dashboard design is somewhat dated and could benefit from an update. Nevertheless, Zoho Analytics is still a useful tool for businesses of all sizes.
5. Sisense
Our final recommendation for business intelligence and visual representation tools is Sisense. It's quick and easy to use, with a wide range of features and integrations that make it suitable for businesses of all sizes.
One of the most valuable features of Sisense is its "data unification" capability. Similar to Microsoft Power Query and Tableau Data Prep, this allows you to collect data from multiple sources and combine it into a single dataset, which makes it much easier to get a comprehensive view of your business.
Apart from that, Sisense also offers pre-built dashboards to suit any industry or department and interactive widgets. If you take them up on their free trial offer, you can explore the software's functionalities and determine if it's the right solution for your business needs.
How to Get the Most Out of Your Data Visualization?
Data visualization is a powerful tool that can help businesses make better decisions. However, it is crucial to choose the right tool for your business and to train your employees on how to use it effectively.
Explore Accelebrate's Data Visualization and Reporting courses and equip your staff with the skills they need to master any data visualization and business intelligence tool.
---
Written by Accelebrate
---