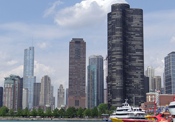 Accelebrate's on-site Git training classes are taught at locations throughout the Chicago area and other Illinois venues.
Git is the leading software version control system. Git is distributed, free, and an appropriate code version control system for development projects in almost any programming language.
Accelebrate's Git training courses teach attendees how to track code changes, collaborate with others, and revert to previous code versions. Students learn how to simplify the development process and ensure that code is tracked effectively, making it easier to revert to previous versions if needed. In addition, we offer a GitHub Copilot course and courses for beginners, seasoned developers, and engineers on GitLab, GitHub, Git with Bitbucket, GitOps, AgroCD, and more.
All of our Git courses below are hands-on, instructor-led, and can be customized for your team of 3 or more. We can deliver live, online training or in-person classes at your site.