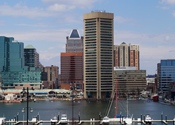 Accelebrate's on-site Microsoft Teams training classes are taught at venues throughout the Baltimore area and other Maryland sites.
Microsoft Teams, a free download and part of the Microsoft 365 suite, is an online communication and productivity tool that facilitates content sharing and collaboration within individual teams and across organizations. MS Teams empowers coworkers to come together toward a common goal using chat, video conferencing, screen sharing, collaborative real-time document editing, workflow integration, and more.
Accelebrate's Microsoft Teams training covers the basics, including how to successfully manage and use teams and channels, file storage, chat, and online meetings. We can also teach advanced topics, including file management, using SharePoint within Teams, adding apps to a team site, creating and managing breakout rooms, and more. Any course can be customized for your team of 3 or more attendees and delivered online or in person.