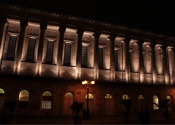 Accelebrate's on-site VBA training classes are taught at venues throughout the Birmingham area and other Alabama sites.
VBA (Visual Basic for Applications) is Microsoft's scripting language for adding custom functionality to Microsoft Office applications, including Excel, Access, Word, Outlook, and others. In Excel, VBA allows you to automate reports, format charts, clean up data, and easily and painlessly perform repetitive tasks.
Accelebrate's 3-day Excel VBA classes teach your team everything they need to know to create VBA applications within Excel. Our 4-day extended course provides an extra day to concentrate on your team's specific VBA projects. In addition, we could deliver a customized VBA class focused on other Office applications upon request. All of our instructors have many years of real-world experience and will work with your team to help you meet your goals.