Have you been using the Structured Data Tool to find and fix any errors before adding the schema markup to your website? I will give it to you straight: the new Rich Results Test has recently come out of beta and Google will be taking away the Structured Data Tool.
I know. Let it all out. It is a significant change. However, I think you will like this new tool once you see all the features and get used to working with it. If you would like a quick breakdown of the Rich Results Tool options and how it compares to the Structured Data Tool, please see my video.
If you are new to Structured Data, you can read my blog post about Featured Snippets, Rich Snippets, and Structured Data. TL;DR? Here is the short version of what Rich Snippets are and why you should add Structured Data to your site if you have not already:
Structured Data helps search engines make you more prominent in users' search. If Google understands what your page is about, it is more likely to display it as a relevant result.

Structured Data is written using schema markup (Schema.org) to create a Rich Snippet.

Rich Snippets include eye-catching non-text items, including star ratings and images. If a result has more information, it is more likely for a user to click on your link.

Rich Results or Rich Snippets are the end goal of Structured Data. The first result below has no Structured data on the page. Instead, the text is coming from the meta description in the HTML. The second result is showing a rating Rich Snippet because THAT page includes Structured Data for ratings.

Structured Data Will Be Important in 2021
I believe that adding Structured Data to your website will become even more critical moving into 2021. I am not a witch, nor do I have a crystal ball. I just noticed some of the not-so-subtle hints that Google has dropped:
Google invested in developing a more robust testing tool and is deprecating the old one. The original Structured Data Tool is being replaced by the new and improved Rich Results Test tool, which is now out of beta.

Google is pushing for sites to be optimized for voice searches. If you use schema markup, you are already set up for speech recognition and NLU (Natural-language understanding) in Google.
Not convinced? You are a tough audience.
Schema markup is already responsive, so your Rich Results will be automatically optimized for different platforms and devices.

Google Webmaster Tools now supports Rich Snippets. In your Webmaster Tools account, go to Search Results on the left-hand nav bar, click + NEW on the top, and add "Rich Snippets."
Arrivederci Google's Structured Data Testing Tool and Hello Rich Results Test
If you have been using the Structured Data Testing Tool to test and debug your Structured Data, you might be broken-hearted a little disappointed to find out that it is going away. Here is what you will see when you go to the tool now:

You can still use it the way you always have for now (code or URL on the left side, breakdown of your Structured Data on the right), but now you will see the box in the lower righthand corner that lets you know it is being shut down.
The new tool, Rich Results Test, offers more insights than the Structured Data Testing Tool but takes some getting used to with all of the new options. We will go through the new selections here.
Features of the Rich Results Test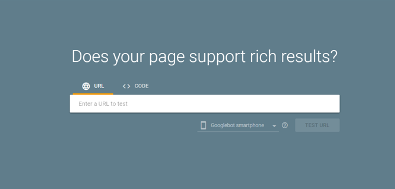 Like the previous version, you can either insert your URL or copy and paste just the Structured Data code, but the new tool goes beyond the old version in many ways:
You can now perform the test for desktop computers or smartphones (see dropdown under the text field).
This new version is concerned with the page as a whole, not just the Structured Data. For example, if there are any page loading issues, you can view the details. Even if there are issues, it does not necessarily mean that your page will not load or that you are not eligible for your Rich Snippet to show.
You will see a yellow warning icon in the top left IF there are any page loading issues, and you can click on View Issues to see them. You might have an issue with your JavaScript or perhaps Robots.txt is blocking a file.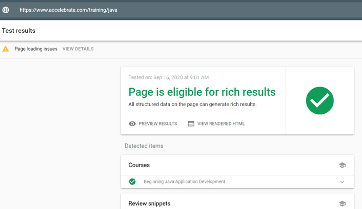 If your Structured Data is valid, you will see the green notice "Page is eligible for rich results." You may click on Preview Results to see a simulation of your page in a Google search. However, this view in the simulator may not show up exactly like it would in a real search. For example, instead of showing the title, the place holder is "Your rich card title is here." On the actual results page, Google will use your page title in that slot.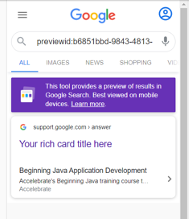 If you have an image in your Structured Data, but Google shows a different image in the Preview Results window, fear not. Google will use a placeholder image if it has not previously indexed your image's URL. The real search result will show your intended image, not the placeholder.
The Detected Items will show you the pieces of the schema broken down like the previous tool. However, if you have a Review Snippet (review ratings, number of stars, etc.), that will show in a separate dropdown box under the main Detected Items box.
If you see a red warning that "Not all markup is eligible for rich results," check to see if there is a syntax issue. Here I am Target's homepage by putting www.target.com in the URL field, clicking on View Rendered HTML, and then clicking on "Missing field 'itemListElement." I am taken directly to the line in the code where the error is, and you can see it highlighted on the right; there is an issue with the schema BreadcrumbList expecting a different property value. This test works the same whether you are in the URL view or the Code view.
Please don't take away my Red Card, Target!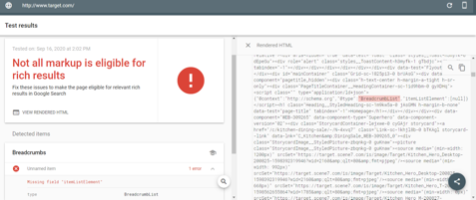 Pitfall to Avoid
One thing that frustrated me about this new tool is that not all schema types are supported yet. I found this out the hard way when I tried to test Structured Data for BroadcastEvent and was pulling my hair out. I did not know why I kept getting the error message "Page not eligible for rich results known by this test." Fiddlesticks! (Yeah, I said it.) BroadcastEvent still worked just fine in the old testing tool. Then I found this list of what you CAN test in the new tool from this Google Rich Results Test resource.
Supported schema types:
I could not help but wonder if that meant that other schema types would be going away. However, it looks like it is just a limitation of the new tool and Google will continue to add more schema types. Thank goodness for Accelebrate that "Course" is still there!
A Parting Gift
One neat resource I discovered since my last Structured Data article is the RankRager Schema Markup  Generator. Just fill out the form on the left and it writes the Structured Data code for you on the right! You may have to tweak and customize your markup, but you will have a framework from which to start.
For me, starting with Structured Data was the hardest part. However, by using a tool like RankRanger and studying the properties and examples at Schema.org, I was able to see how everything fit together to write well-formed, correct Structured Data. You can find instances for any valid property you need at https://www.schema.org/docs/schemas.html.
Overall, moving to the Rich Results Test is a good change and makes sense; Google wants to look at the entire webpage to make sure it sees and understands the page correctly. If there is an issue, webmasters need to know so they can fix the loading problems. Also, I think the visuals are rad. The big green letters and checkmark makes me feel validated. See what I did there?
Good luck with your schema markup and working with this new tool. I think you will grow to really like it and find it extremely useful.
---
Written by Anne Fernandez
---