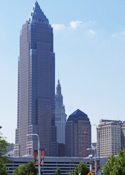 Accelebrate teaches on-site R Programming training classes at client sites throughout the Cleveland area and other Ohio locations.
R for Statistics & Graphics
R provides a wide range of built-in statistical and graphical techniques to perform data analysis, such as linear and nonlinear modeling, hypothesis testing, and time-series analysis. R is commonly used in academics, such as in research and academic institutions, as well as in the business world, particularly in finance and banking.
Learn R Programming Basics & Advanced Skills
Accelebrate delivers private in-person or live, online R courses to teach your group how to compute statistics, generate charts, graphs, and other data representations, and use R Programming for big data and NLP. Attendees learn R language fundamentals and beyond, R best practices, data visualization/manipulation, and R with Shiny, Quarto, Azure, and more. Our instructors have years of intensive field experience and would enjoy tailoring your class to your team's specific needs, and any course below can be customized.