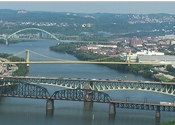 Accelebrate's on-site Salesforce training classes are taught at venues throughout the Pittsburgh area and other Pennsylvania sites.
Salesforce® is the world's leading web-based customer relationship management (CRM) platform. Companies rely on Salesforce to streamline and integrate marketing, sales, and customer support. Because Salesforce is in the cloud and subscription-based, you pay for what you use and can scale as you grow. Accelebrate offers Salesforce training for all levels and roles, including beginning and advanced users, as well as Salesforce admins and developers.
Learn how to successfully streamline and automate sales and business processes. Accelebrate's Salesforce experts and seasoned instructors deliver live, private Salesforce courses for your team of 3 or more. Classes can be delivered in person at your site or as live, online training for your sales team. All classes offer real-world hands-on labs and can be customized to meet your group's goals and needs.