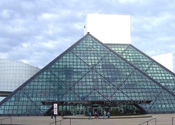 Accelebrate teaches on-site Machine Learning training courses at client sites throughout the Cleveland area and other Ohio sites.
Machine Learning (ML), a part of artificial intelligence, automates the building of analytical models. Computer systems use algorithms and models, rather than explicit programming, to infer patterns and predict outcomes.
Accelebrate's Machine Learning live training courses teach your team the basics of how to build ML solutions using the latest technologies, including Python, TensorFlow, Keras, and the wide array of tools available in the AWS cloud. In addition, we offer AI and Deep Learning training.