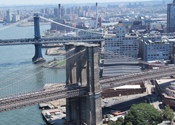 Accelebrate's on-site Azure training classes are taught at locations throughout the New York City area and other New York venues.
Azure is Microsoft's flexible, easy to use, public cloud computing platform that includes Infrastructure as a Services (IaaS), Platform as a Service (PaaS), and Software as a Service (SaaS). Developers and administrators love Azure because it allows the construction, deployment, and management of applications and services in Microsoft's global data centers. Azure is also popular because it is:
Flexible – Use Azure alone or in conjunction with on-premise servers. In addition, Azure supports almost any operating system, programming language, or framework.
Scalable - Scale and globally deploy your applications and services using hosted infrastructure.
Easy to use – Use pre-built templates and managed services to help you quickly build and manage enterprise, mobile, and web applications.
Affordable – Azure's pay-per-use subscription allows you to only pay for what you use.
Accelebrate offers in-person or online Microsoft Azure courses taught by experienced Microsoft Official trainers who are also consultants with extensive real-world Azure development and management expertise. As a Microsoft Partner, we offer the full array of Microsoft Official Azure courses. All classes are hands-on, instructor-led, and can be customized to meet your team's goals.