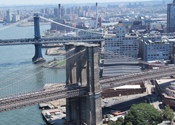 Azure Training Courses for Your Team
Get access to all the benefits Azure has to offer your team with Accelebrate's Azure training. Azure is a Microsoft cloud-computing platform that is flexible and easy-to-use. It includes various software delivery models that include Infrastructure as a Service (IaaS), Platform as a Service (PaaS), and Software as a Service (SaaS).
Azure is a popular platform among developers and administrators as it allows the construction, deployment, and management of various applications and services in Microsoft's global data centers. Azure is flexible, scalable, and affordable with pay-per-use subscription.
As a Microsoft Learning Partner, Accelebrate is able to exclusively offer a wide variety of courses using the Microsoft Official Curriculum (MOC), designed to help your team better understand and use Azure.
Azure Training Courses in New York City
At Accelebrate, we teach Azure training courses in the New York area that are both in-person and online for additional convenience. Each course is taught by an experienced Microsoft Certified Trainer (MCT) and is completely hands-on in order to provide you with the full, in-depth experience.