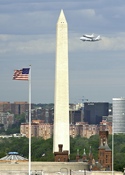 Azure Training Courses for Your Team
Ready to become an expert in Azure? With Accelebrate's Azure training your team learns about all the benefits Azure has to offer, including the various software delivery models, such as Infrastructure as a Service (IaaS), Platform as a Service (PaaS), and Software as a Service (SaaS).
Azure is a Microsoft cloud-computing platform that is favored among developers and administrators for it's ease-of-use and flexible nature. It allows both administrators and developers to construct, deploy, and manage various services and applications in Microsoft's global data centers. This platform works off of a pay-per-use subscription model, making it affordable and scalable.
Accelebrate is a Microsoft Learning Partner, which means we're able to provide your team with official MCT trainers and official Microsoft courses, using the Microsoft Official Curriculum (MOC).
Azure Training Courses in Washington, DC
At Accelerate, we deliver Azure training courses in the Washington, DC and surrounding area that fulfill all areas of study, including both in-person and online. Each of our courses are taught by experienced Microsoft Certified Trainers (MCT) and offer a completely hands-on experience.