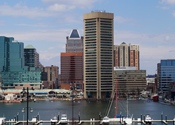 Accelebrate's on-site Azure training classes are taught at locations throughout the Baltimore area and other Maryland venues.
Azure is a Microsoft cloud computing and infrastructure platform that allows the construction, deployment, and management of applications and services in Microsoft's data centers (and those of its partners). Azure offers pre-built templates and managed services to make it easier to quickly build and manage enterprise, mobile, and web applications. Azure's integrated tools make it both powerful and flexible, using skills you already have and technologies you already know, with the opportunity to rapidly scale and globally deploy your applications and services using hosted infrastructure.
Accelebrate is pleased to offer corporate Azure training taught by trainers with extensive teaching, development, and management experience on the Azure platform. As a Microsoft Partner, we offer many Official Microsoft Azure courses; all the classes below with a course number in the title are official courses from Microsoft. All classes are hands-on, instructor-led, and can be delivered live online or at your site.