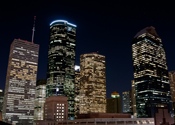 Accelebrate's on-site Azure training classes are taught at locations throughout the Houston area and other Texas venues.
Microsoft Azure is a powerful cloud computing platform offering a broad range of services, including computing, networking, storage, databases, analytics, machine learning, and artificial intelligence. Businesses of all sizes use Azure, from startups to large enterprises.
Accelebrate offers Microsoft Azure training and certification courses using the Microsoft Official Curriculum (MOC). These Azure courses prepare you both for the real world and the certification exams. If you are interested in becoming Microsoft Azure certified, you can read about the different role-based tracks available with Microsoft Azure Certifications. Accelebrate offers certification training for official MS Azure courses, including AZ-900, AI-900, DP-100, and more.
As an official Microsoft Partner, Accelebrate offers in-person or online Azure courses taught by experienced Microsoft Certified Trainers (MCTs) and consultants with extensive real-world Azure development and management expertise. All classes are hands-on, instructor-led, and can be customized to meet your team's goals.