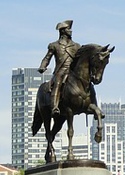 Power BI Training Courses for Your Team
Expand your team's knowledge skillet with Power BI training courses from Accelebrate. Microsoft Power BI (Business Intelligence) is a powerful technology-driven business analytics tool that is a key part of the Microsoft Power Platform. It used to both visualize and analyze raw data in order to present actional information.
Power BI is also used as a connection source for data bases, web services, and Excel spreadsheets in order to create complex data visualization that a team can share internally. In collaboration with Power BI, businesses are able to make proper decisions utilizing its other, technical features, including:
Visualization shaping - for cohesive storytelling
Security feature application - to secure access to visualizations
AI (Artificial Intelligence) feature leverage through Power BI - to glean additional, actionable insights from their data.
Power BI Training Courses in Boston
Accelebrate proudly offers both onsite and online Power BI training for teams of three or more and can deliver tailored training to fit your group's unique needs using our hands-on approach to instruction and implementing real-life scenario into lessons.
Whether you're looking to start reporting with Power BI Desktop or take their data analysis and data modeling skills to the next level, our courses can help your Boston team get to where you want to be.