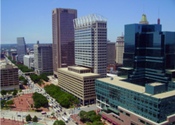 Accelebrate teaches on-site Power BI training courses at client sites throughout the Baltimore area and other Maryland venues.
Microsoft Power BI (Business Intelligence) is a powerful business analytics and visualization tool in Microsoft Power Platform. Power BI helps data analysts to turn raw data into a coherent story for stakeholders, colleagues, and clients. Power BI Desktop has an easy-to-use interface that allows beginners to experienced data analysts to connect to databases, import data, transform data, and create complex data visualizations with security in mind.
Accelebrate offers onsite or online Power BI training for groups of 3 or more. Our expert instructors teach your team how to create stunning visualizations to make informed data-driven business decisions. Through hands-on instruction and real-life scenarios, we can deliver tailored training that fits your group's learning needs. In addition, most Power BI classes can incorporate your own data if desired. We also offer official Microsoft Power BI certification courses, including PL-300.
Wondering where to start? Our Power BI Learning Paths show which onsite or online courses are right for your group.
Take 25% off Select Power BI Courses
Book and conduct your team's training by December 31, 2023, to save 25%.
Mention PROMO CODE EOY25 in the comments field when you contact us!